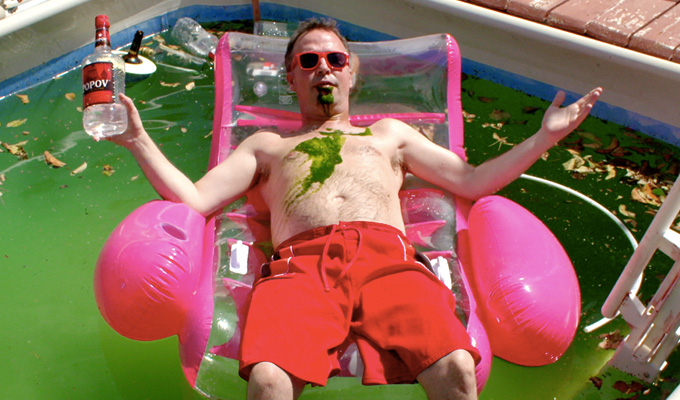 Doug Stanhope launches 'fitness' app
• A whole backstory told in two tweets. First Bob Mortimer paid tribute to his axed BBC Two comedy, saying: 'I miss Beef and Julie and Eric and Bosh and Racheal #HouseOfFools.' Then producer Lisa Clark fired back: 'It's "Rachel"; I corrected it every time, in every script in every episode.'
• With his drinking, smoking and drug-taking, you might think US comic Doug Stanhope would be the unlikely face of a fitness app. So perhaps that's why he's launched a 'new kind of fitness experience' – promising 'the perfect antidote to compulsive calorie­-counting and data-­crunching'. The unFIT, newly available for the iPhone and Apple Watch, ​focuses on 'underachievements' — pointless activities such as leaving work early, getting a snack, or just lying on the couch. Developers This Is Pop claim: 'Ironically, players will discover that it takes a lot of steps, endurance and burned calories to do absolutely nothing. The unFIT p​ersonal trainer will challenge users daily with ever­-evolving activities like going on epic beer runs, lifting game controllers, standing in long lines for coffee, carrying heavy shopping bags, and singing karaoke all night.' Stanhope fronts videos shot on his compound in Bisbee, Arizona, which ​depict him engaged in various unFIT ​acts of his own invention, such as dumping vodka into a juicer full of kale, juggling a treadmill routine with a smoking workout, farting in a communal sauna, and more. You can get it for £3.99 here.

• The bells in Oslo City Hall clock tower will be chiming gout Eric Idle's Always Look On The Bright Side at 6pm throughout the winter.
• Tattoo artist Tom Wagstaff has had the face of Peep Show character Mark Corrigan inked on his leg. His colleague Frances Joyce did the work at their Birmingham studio, and said: 'I haven't been asked to do a Mark Corrigan previously… I have tattooed some celebrity portraits in the past but they tend to be more cult figures.'

• The Daily Telegraph website last night BBC ran a story saying 'BBC urged to ban right-wing comedian Andrew Lawrence' based on a Change.org petition that had attracted 65 signatures. Less of a storm in a teacup than natural Brownian motion… The joke at the centre of it was this one:

Given that about 80% of suicides in the UK last year were committed by men, if feminists truly wanted equality, they'd kill themselves ;)

— Andrew Lawrence (@andrewlawrence) December 14, 2015
• Margaret Cho owns the bongs that were used in Pulp Fiction.
• Edinburgh Comedy Award nominee Kieran Hodgson has given himself little over a month to learn to play the bassoon from scratch. He's taken up the challenge for the National Orchestra for All's Musical Chairs day, when an impromptu orchestra is formed from 60 members of the public for a single day to rehearse and then perform Beethoven's 5th and Dvorak's New World Symphony. Hodgson is a talented musician, playing first violin with the North London Sinfonia, and he intends his 2016 Edinburgh show to be about his love of Mahler. But he has never played the bassoon before. Nor is he the only comedian linked to the project, as Sue Perkins will conduct the pieces on January 16.
• Want to see the Flight Of The Conchords in Lego? Sure you do!

• It's a question often asked… what does a stand-up director actually do? Well Dec Munro, who worked with Sofie Hagen on her Bubblewrap show this year, says it was taking her possessions hostage to overcome her procrastination. 'My key contribution,' he told blogger John Fleming, 'was to take her out, get her drunk, steal most of her belongings and tell her I would put them on eBay 48 hours later because, for about three weeks, she had told me she would get a script to me and there had been variety of different excuses from I'm hung over to I'm tired to I'm ill… I stole her ear-rings, necklaces, wallet, cards and told her that, at 5pm on Friday, I would eBay all of her possessions that I had unless she sent the script across and I think at 4.57pm she sent it across. I think that was probably the biggest thing I did…'
• Islamic State are getting their ideas from Four Lions now. A supporter of the terror group has suggested turning birds into suicide bombers: strapping 'lightweight' bombs to them and training them to fly into a jet and detonate an explosive, website Vocalic reports. Mind you, it didn't work out to well for the crow in Chris Morris's film…
• Comedian Alfie Brown's certainly on the zeitgest. The Merriam-Webster dictionary has declared '-ism' the word of 2015, which just happens to be the title of his current show.
Tweets of the week
When I see anything that is 69p I imagine it's a threesome but one guy is in a huff because they're not involving him.

— Adam Hess (@adamhess1) December 17, 2015
"Naughty or nice", Santa? Really? This is the kind of dogmatic moral absolutism that starts wars

— Sanjeev Kohli (@govindajeggy) December 17, 2015
New Star Wars disappointing. Maggie Smith good, but spaceship looks like a van.

— Milton Jones (@themiltonjones) December 17, 2015
Published: 18 Dec 2015
What do you think?