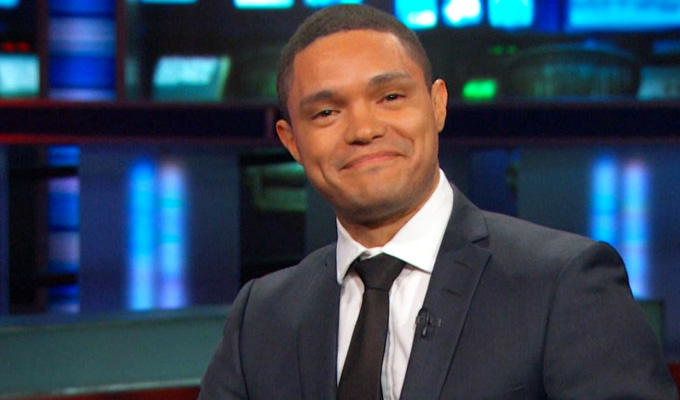 Daily Show in joke theft row
Trevor Noah has been dragged into another plagiarism row after The Daily Show tweeted a joke similar to one cracked by a prominent British tech journalist.
Milo Yiannopoulos has cried foul after the Comedy Central show posted a near-identical comment about Republican presidential hopeful Carly Fiorina as she appeared on a televised debate this week.
Yiannopoulos, who runs the Breitbart Tech website posted to his 121,000 followers:
I've just seen the size of the crucifix Fiorina is wearing. It's like Buffy the Vampire Slayer got stuck on an ice planet for 100 years

— Milo Yiannopoulos (@Nero) December 16, 2015
And half an hour later, the Daily Show made the similar tweet to its 4million followers:
Carly The Vampire Slayer #GOPDebate pic.twitter.com/peM8w80ito

— The Daily Show (@TheDailyShow) December 16, 2015
Writing on Breitbart,Yiannopoulos said: 'Trevor Noah, the handsome yet comedically challenged replacement for Jon Stewart, has been stealing my jokes.'
And he claimed that an unnamed Daily Show writer was followed him on Twitter – but unfollowed him when the pilfering was pointed out.
Yiannopoulos, who was one of the first journalists to write about the Gamergate scandal and who calls himself 'the funniest journalist in Britain', admitted that it wasn't 'the most brilliant or original line in history' but said he was 'disinclined to give the Daily Show team the benefit of the doubt' as 'Noah has form'.
Earlier this year the South African comedian was accused of ripping off a 18-year-old Dave Chappelle routine about racism for a stand-up set he performed at a political conference.
Russell Peters has also accused Noah of stealing material from himself, but later backtracked, saying his allegation was a 'prank' – after Gina Yashere claimed the Canadian had stolen lines from her previously.
However, it's unlikely Noah takes a hands-on approach to running the Daily Show's Twitter feed. And Yiannopoulos is a self-confessed plagiarist himself.
Earlier this year, he was forced to concede that his 2007 collection of poetry, called Eskimo Papoose, contained several couplets that he had taken from Tori Amos lyrics
The tome, published under his pen name Milo Andreas Wagner, also lines from Britney Spears, Mariah Carey and even Buffy The Vampire Slayer.
When rumbled, Yiannopoulos claimed: 'There isn't a line in the whole thing that isn't from somewhere else. That's obviously the point. You actually, really believe that it could possibly be anything but a giant pisstake? That it could be 'deception'? Really?'
Published: 17 Dec 2015
Recent News
What do you think?