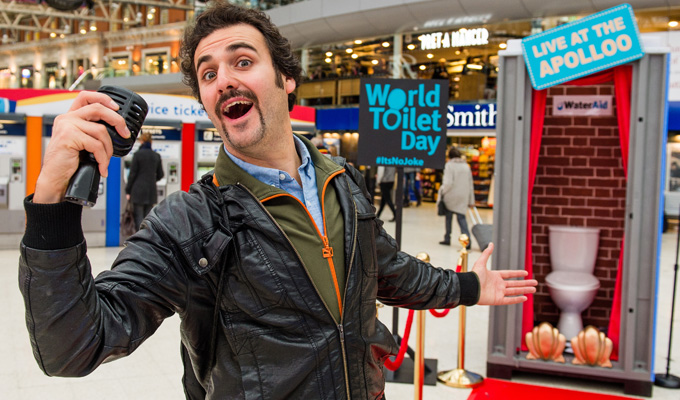 Is this sit-down comedy?
Comedian Patrick Monahan treated commuters to a barrage of toilet humour this morning, as a Portaloo was converted into a venue at a busy London station.
The stand-up entertained at Waterloo, appropriately enough, to mark World Toilet Day. And the whole venture was Dumped Live At The Apollo.
Plush velvet curtains and spotlights converted the 110cm square hut into a venue, to promote the work of WaterAid. The charity says 2.3 billion people around the world do not have access to a safe, private toilet, leaving them open to disease, harassment and even attack.
Monahan said: 'I've gigged in some unusual venues in my time, but I can honestly say this was the most surreal. Live at the Apolloo is not your bog-standard comedy stage that's for sure.'
Chris Wainwright, WaterAid's head of communications, added: 'Every day people face huge dangers and challenges, just to do something as simple as go to the loo.This World Toilet Day WaterAid wants to use comedy to get people talking about toilets.'
Here's footage from the stunt:
Published: 19 Nov 2015
What do you think?