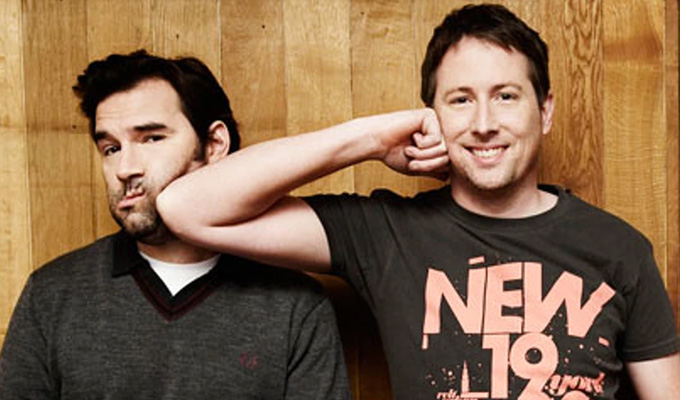 Adam and Joe to reunite
Adam and Joe are to reunite for the first time since 2011.
Joe Cornish is joining his long-time collaborator on a Christmas episode of the Adam Buxton Podcast, the latter announced yesterday.
After interviewing Rob Delaney, Buxton revealed: 'I hope I'm going to do a Christmas Special with Joe "Cornballs" Cornish. I emailed him the other day, he said he was up for the idea, so I'm going to pin him down and we'll do some Christmas rambling for you, I hope, if all goes well.
Buxton, whose recent interviewees have included Rob Brydon, Louis Theroux, Jon Ronson, director Garth Jennings and rapper Scroobius Pip, also announced that he is seeking sponsorship for his podcast, in order to hire a producer to procure a more varied selection of guests.
Cornish and Buxton, who first came to prominence with The Adam and Joe Show on Channel 4, which ran from 1996 to 2001, last worked together on their BBC 6 Radio show in 2011.
Speaking on Scroobius Pip's Distraction Pieces podcast last week, Buxton shared his frustration at forever being asked about working with Cornish again, as the pair have developed successful solo careers.
An emerging film writer and director with credits including Ant-Man and Attack The Block, Cornish is said to be adapting Neal Stephenson's sci-fi novel Snow Crash for cinema, while Buxton will star in the forthcoming, futuristic Channel 4 sitcom The Cloud, which he has written with Graham Linehan.
- By Jay Richardson
Published: 12 Nov 2015
Recent News
What do you think?