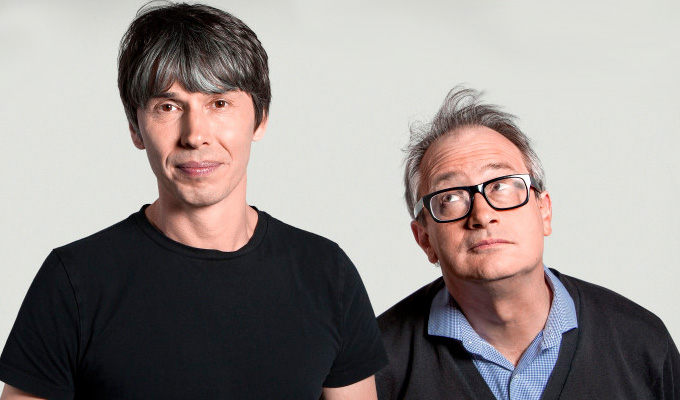 A bunch of Roses
Comedy talent from the veterans of Monty Python to the newcomers of Newsjack have been shortlisted for prestigious international Rose d'Or Awards.
Britain dominates the comedy categories, landing all six nominations in TV and radio.
On screen, Inside No. 9, Psychobitches and The Revolution Will Be Televised make the shortlist, and on radio, Kevin Eldon Will See You Now, The Infinite Monkey Cage and NewsJack, in which new writers pen topical sketches, will duke it out.
The Infinite Monkey Cage, co-hosted by Robin Ince and Brian Cox, is also up for best radio talk show alongside fellow Radio 4 offerings Women's Hour and Chain Reaction when celebrities, often comedians, take turns to interview each other.
Nominated in the radio game show category are another three British shows: The 3rd Degree, the Steve Punt quiz in which a team of students takes on a team of professors, Ken Bruce's Pop Master and the David Mitchell-fronted The Unbelievable Truth.
Back on TV, Catastrophe is up for the sitcom category against the Belgian show Safety First and the America's Workaholics. The latter is made by Britain's Avalon Entertainment, which is why it eligible for the European awards.
Monty Python: The Meaning of Live, the UKTV Gold documentary that followed the team as they reformed for their ten shows at London's O2, has been nominated of the arts award alongside Channel 4's Our Gay Wedding: The Musical and This is Opera: Turandot, from Spain.
And Graham Norton's BBC One chat show has been shortlisted in the entertainment category alongside Germany's Friendly Fire and Sweden's The Museum .
More than 450 programmes were submitted for this year's awards. 377 on TV and 82 on radio .
Eurovision media director Jean Philip de Tender said: 'The quality of the nominees this year is extremely high - not just in television but also in radio. It highlights the level of entertainment content that's being produced across the industry.'
The winners will be announced at the British Museum in London on December 9.
Published: 9 Nov 2015
What do you think?