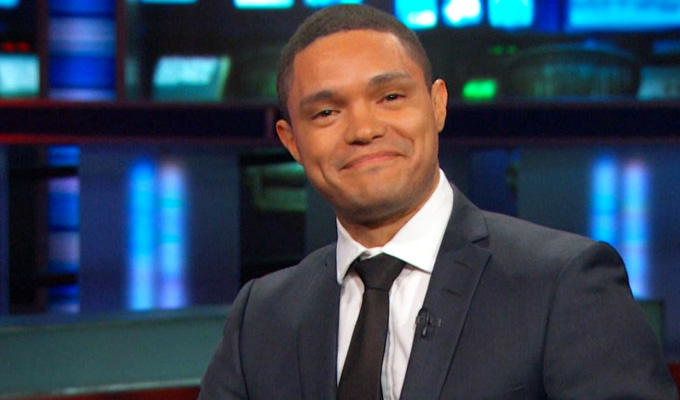 Did Trevor Noah steal from Dave Chapelle?
Trevor Noah has been accused of stealing a joke from fellow comic Dave Chappelle.
The new Daily Show host was branded a plagiarist over a stand-up routine he performed in Los Angeles about being a 'racism connoisseur'.
Chapelle used the exact same phrase and a similar train of thought in a 1997 routine, as pointed out by the influent Hollywood Reporter.
In his 20-minute set at the Policon convention, Noah said: 'I thought I knew all kinds of racism. I've always considered myself a racism connoisseur, appreciating the finer racism. Not to say I appreciate all racism, but rather finer racism.
'Before I came here, blatant racism was my favourite. I was walking through the streets and a man walked up to me, didn't know me from a bar of soap. Looked me straight in the eye and said: [cheerily] '"Good afternoon… nigger!" "Good afternoon". I've never seen racism with a smile, I never knew what to do.'
In his routine, Chappelle said: 'I study that kinda shit. Anything that has anything do with race I read a little here see a little there and I travel,and that's always good. Travelling has made me a racism connoisseur, if you like.
'Anyone ever been down South?" So you guys know what I'm talking about. The racism down there is just fucking [smacks his lips] it's perfect. Stewed to a perfection. It's comfortable, it's out in the open. There are no secrets in Mississippi. Everybody knows the deal: "Morning nigger" "Morning sir!"'
This isn't the first time Noah's been accused of joke theft. After the South African was announced as the new host of The Daily Show, Russell Peters made the same allegation, telling a TV interviewer: 'He's stolen material from [South African comedian] David Kau, he's stolen material from myself…'
Peters later claimed his remarks were a 'prank' and accused the media of being 'gullible' for taking him at face value.
Kau made the original accusation during a 2012 roast, and the following year Noah tackled the criticism saying: 'Nobody owns comedy, nobody owns a premise, nobody owns an idea. Comedy is your personal take on a thing… Like, half the jokes young black comedians are doing in America right now, Richard Pryor and Eddie Murphy were doing 20 years ago.
'This is what all the guys just didn't understand; they were like: "No, that's mine! I'm the guy who tells the jokes about the government!" And we're like, "No, everyone tells jokes about government."'
Here's Noah's routine:
And here's Chappelle's
Published: 15 Oct 2015
Recent News
What do you think?