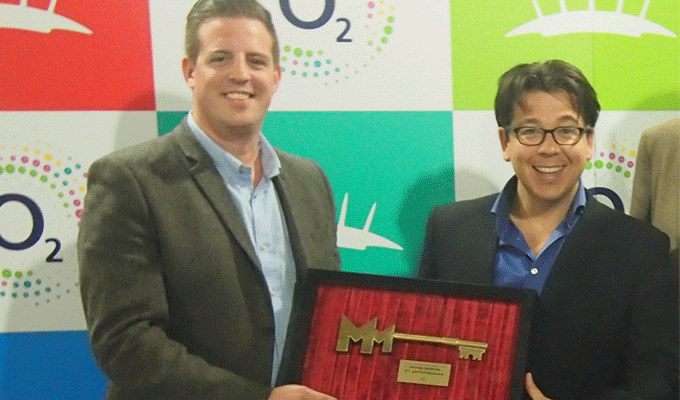 McIntyre given the keys to the O2
Michael McIntyre has been presented the keys to London's O2, after setting a record for the most performances at the venue.
The comic has racked up 27 performances at the arena over all his tours, plus the Channel 4 Comedy Gala.
Keys are handed over for anyone who breaks the milestone of 21 performances set by Prince in 2007 – and have previously been given to Take That and One Direction.
McIntyre joked that he'd be 'starting a super-group with the other members' of the club.
He performed four nights in 2009, ten in 2012 and seven in his current Happy & Glorious tour.
Steve Gotkine, O2's operations director said: 'No other artist has come close to Michael's success at our venue. He has performed a record 27 times, making hundreds of thousands of fans laugh, time and time again. Our team loves having Michael perform and nobody deserves this honour more'
The key was designed by The O2 team, finished in gold and mounted on a red velvet backing, resembling the comedian's own artwork. The key will be kept on the walk to stage at The O2, so will be visible to everyone who performs therein future.
Published: 13 Oct 2015
What do you think?