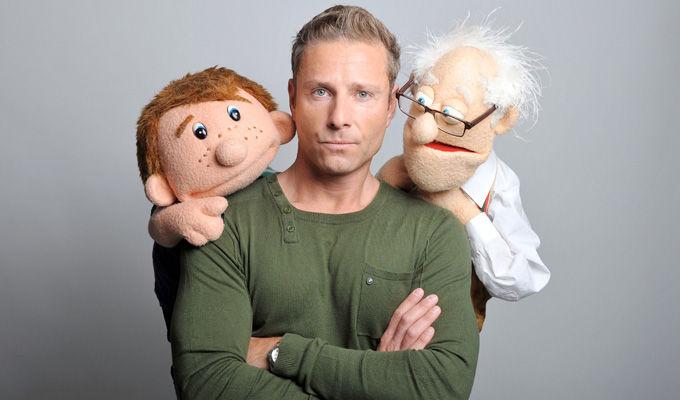 Paul Zerdin hits back over plagiarism claims
Paul Zerdin has answered his critics who accused him of using stolen material on his way to winning the $1million America's Got Talent prize.
Fellow ventriloquists David Strassman and Ronn Lucas said the Brit has used routines remarkably similar to their own.
But in response Zerdin said the techniques he used were 'widespread' and predated either of their claims on them.
The row was sparked when Lucas told Hollywood insider website Deadline: 'What bothers me is that he won by stealing other people's acts, including my own, and that he takes credit for the originality.'
And Strassman said: 'He needs to give credit where credit is due. I don't think it's fair for anybody to win a talent show and a lot of money on unoriginal material.'
In the quarter-finals Zerdin, who has been performing on the British comedy circuit for around 20 years, had an argument with his puppet Sam and left the dummy on stage alone, telling him: 'If you think you can do better on your own, then you're very welcome.'
The routine is similar to one Strassman created in the 1980s and performed on the Arsenio Hall Show:
And in the semi-final Zerdin used a mechanical jaw to make judge Howie Mandel into his dummy:
However a YouTube clip shows Lucas performing a similar routine back in 1997:
Lucas said told Deadline: ' It's very disheartening. It's very galling.' However he accepted the mask trick had become widely used in ventriloquism.
'For a long time, I tried to protect it, but I finally gave up,' he said. 'Magicians publish their tricks – they have their names attached to them. But no one cares about giving ventriloquists credit.'
In response, Zerdin told Chortle:'Masks have been used by ventriloquists since Albert Saveen in the 1960s, and Keith Harris was leaving Orville onstage alone in the late 1970s.
'I have never claimed ownership of either concept, and their use is widespread. Both Ronn and David are exceptional talents, and as fellow ventriloquists there will inevitably be similarities in performances.
'I remember seeing some footage of Dennis Spicer from the 60s in my teens, where the dummy sat on a chair and at the end of the show Spicer took a bow, whistled and the dummy jumped off the chair and came running after him. That dummy was actually played by Kenny Baker who went on to play R2-D2 in Star Wars.
'I've been performing a mask routine since late 1996 after seeing a ventriloquist selling a moving mouth prop at the Vent Haven ventriloquist convention in Kentucky. I decided to have one specially designed and built for my show. I then updated my mask routine when I redesigned it for my touring stage show and came up with the idea of making it radio controlled. I have been using a radio controlled Sam since 1997.
'Over the years the craft has become increasingly sophisticated with ventriloquists employing a mix of actors, mechanics and most recently radio controlled animatronics. I think it's fantastic that there is so much interest in ventriloquism again as it is a craft that has been around for thousands of years.'
Four years ago, comedian Jordan Paris was disqualified from Australia's Got Talent when it was discovered that he'd stolen gags from stand-ups including Lee Mack.
On America''s Got Talent, judge Howard Stern praised Zerding for being 'a master at what he does', adding: 'He's taking the art of ventriloquism to new heights.'
Published: 22 Sep 2015
What do you think?