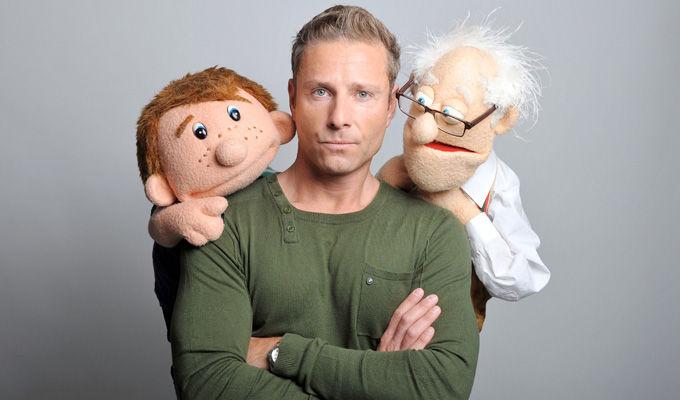 Who is Paul Zerdin?
Comedy ventriloquist Paul Zerdin has been propelled into the major leagues of entertainment thanks to his victory on America's Got Talent last night. The $1million prize is just the tip of the iceberg – with the last vent act to triumph on the show, Terry Fator, netting a reported $100million Las Vegas deal on the back of his success.
But overnight success in America comes after more than 20 years working the UK comedy circuit, both in clubs and more mainstream venues with what he calls a 'one-man Muppet sitcom'.
His interest in performance began at the age of ten, when a family friend made him a puppet theatre, sparking a hobby that quickly grew into an obsession. He recalled in one interview: 'I used to watch Sesame Street and then The Muppet Show. I remember getting a teddy bear and I cut the back open, took all the stuffing out and put my hand into the mouth and made a puppet out of it.
'The real turning point was when I was given a book on ventriloquism by the legendary Ray Alan,' he says, referring to the late comic best known for his Lord Charles puppet. By the time I hit my teens I was spending half an hour a day in front of the mirror practising talking without moving my lips.'
After failing his GCSE exams, Zerdin got a job in a magic shop – while also developing a sideline as a children's entertainer, which he found earned him far more than his friends' 'measly' paper rounds. He says magic was his first love and only started introducing ventriloquism later. In an interview last year, he said: 'I got a puppet built and did a bit of Tommy Cooper-style comedy magic and some gags with the puppet. Eventually I phased out the magic.'
Zerdin comes from a family who are used to the spotlight. His parents were both drama-school graduates with his mum going on to be a Radio 2 presenter, his dad a BBC World Service producer. He made his own TV debut as a magician on the BBC's Tricky Business and shortly afterwards, at the age of just 20, landed a two-year contract presenting the kids' programme Rise and Shine for GMTV.
In 1996, Zerdin has his first experience of TV talent shows, winning LWT's The Big Big Talent Show, hosted by Jonathan Ross, by more than 100,000 votes.
Pop impresario Nigel Lythgoe, the man who would go on to create American Idol, took Zerdin under his wing and helped get him on shows such as Tonight at the London Palladium, and The Generation Game among them. In 1997 he landed a spot on the Prince's Trust Gala Show, of which he said: 'That was a totally surreal experience. I was sharing a dressing room with Julian Clary, Alan Davies and Frank Bruno with The Spice Girls next door.'
Here's an early appearance on the Freddie Starr Show from around that time:
About this time, Zerdin decided to introduce more stand-up into his routine, which made it at a viable prospect for comedy clubs. He said he had to alter his act as he was becoming famous just as the appetite for variety was waning and reality TV becoming fashionable. 'My timing was just wrong so I had to have a rethink,' he said in a 2010 interview. 'My agent at the time said, "Look, if you want to get more telly, you need to become credible and you need to change things." So I started again, doing the comedy circuit. I'd come from a very different background of cruise ships and variety nights and I had to learn to let some old gags go and write my own material. It was actually the best thing for me.'
In 1999, Zerdin made the first of three Royal Variety Performance appearances, in a show attended by the Queen and hosted by Brian Conley. He says it was the 'great reaction' he got from the third appearance, in 2009, below, which allowed him to go on tour for the first time and return to the Edinburgh Fringe, nine years after his debut. He was also invited to appear at Montreal's Just For Laughs Festival the following year.
And although ventriloquism is often derided as a dying art, Zerdin – who is also a panto regular – believes that with the likes of himself, Nina Conti and David Strassman trying to reinvent the format, it still has a place in modern entertainment.
'It can happily carry on in this day and age, as long as you do something different with it,' he has told interviewers. 'It's got to evolve. I think it needed to go out of fashion, so it could come back better.'
Published: 17 Sep 2015
What do you think?