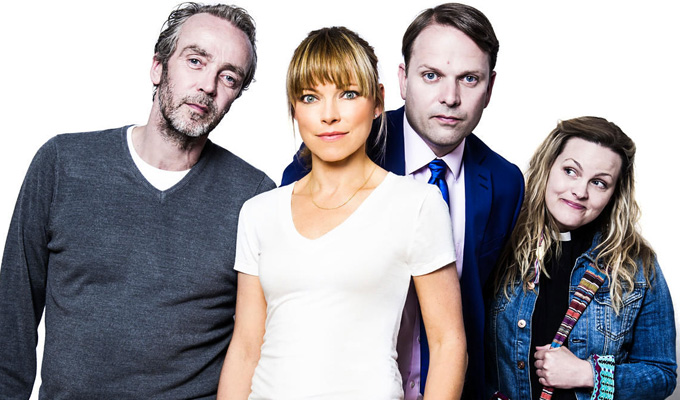 'Ghosts are more possible than time travel...'
The creator of a new sitcom about ghosts says he wants to use the supernatural hook as a way of exploring heavyweight emotional topics.
Daniel Peacock has written three episodes of Marley's Ghosts, in which a woman – played by Sarah Alexander –  can convene with the dead, including her husband Adam (John Hannah), her lover Michael (Nicholas Burns) and her vicar (Jo Joyner).
He said: 'It's a comedy but there are moments that… I don't want to say profound, but touching, such as when Adam meets the daughter he never knew he had, but she can't see [him]. When I was writing this, I was crying.'
Hannah agreed, saying: 'The tragedy of that is sad. The show is bizarre but very real and very human, so there are those moments of great humanity and emotion.'
Peacock said that if Gold commissioned more episodes, he had the idea of a story involving 'a blind guy who, now he's dead, can see for the first time – and he's really disappointed in the woman he married'.
'That sounds really comedic but with that comes with all the emotions of what that would be like, so I can think along these abstract lines with resonance to society.'
Appearing at the annual UKTV Live event this morning, Hannah also spoke of the 'Bible of the dead' used to define the rules when making the series – so that ghosts can sit on a chair without passing through it, but can't use the remote control.
Peacock admitted he had been influenced by Randall and Hopkirk (Deceased) – the 1960s detective series in which one of the partners is a ghost, remade in 2000 by Reeves and Mortimer.
He said he had some initial concerns that critics might say the show 'looked silly', but added: 'Ghosts are much more possible than time travel and we all watch time travel films.'
And he added that his aim was to make viewers forget some of the characters were ghosts. 'The audience will every now and again go, "They're dead I'd forgotten about that!" I hope this is a wonderful soup of funny possibilities which I hope to pursue more.'
The first episode of Marley's Ghosts airs on September 30.
Published: 8 Sep 2015
What do you think?