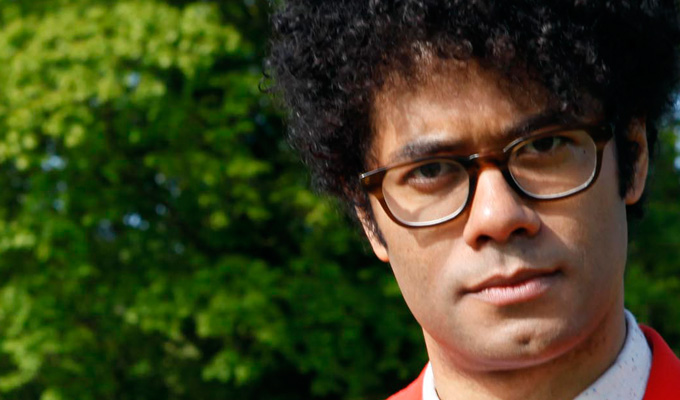 Richard Ayoade joins Danger Mouse
Richard Ayoade is to make a guest appearance in the revived Danger Mouse.
The IT Crowd star plays a villainous snowman in the Christmas special, which will also star Brian Blessed as Santa. CBBC controller Cheryl Taylor said Santa was the role Blessed 'was born to play'.
She also announced that the series – starring Alexander Armstrong as Danger Mouse and Kevin Eldon as his sidekick Penfold – will launch on September 28, 34 years to the day after the series first started.
Also announced as a guest star today is Miranda Richardson, who will voice the Queen Of Weevils, who escaped Merlin's clutches and now wants to take over the world.
They join previously announced John Oliver as mad scientist – and wolf – Dr Augustus P Crumhorn III and Lena Headey as US Secret Agent Jeopardy Mouse.
At a screening of the first new episode, Armstrong confessed: 'I've never cared about a part as much as this. It was a long, protracted audition process. Lots of partnerships were tried… I've discovered.'
He added that the role was 'the closest I'll get' to playing James Bond. 'I think I've given up on by Bond aspirations, but this scratches that itch.'
And he admitted playing an invincible hero was good for his ego: 'I'm playing a title character and n the theme tune people are shouting, "He's fantastic!" It's very exciting.'
Armstrong also said was looking forward to original Danger Mouse actor Sir David Jason watching it 'to see what he makes of it'.
Meanwhile, Eldon said he had a 'vague memory' of the original, but was too old to remember it as a child. 'I deliberately didn't look into in too much so I could come into it fresh,' he said. 'I didn't want to get too bogged down in thinking, "You'd better not mess this up" so I treated it as a new job – but was aware of the pedigree.'
The series originally ran for 161 episodes from 1981 to 1992, attracting an astonishing 21.6million viewers at its peak in 1983.
The revival also features Stephen Fry as Colonel K, Come Dine With Me's Dave Lamb doing the voiceover and Morwenna Banks as The Queen.
Published: 4 Sep 2015
What do you think?