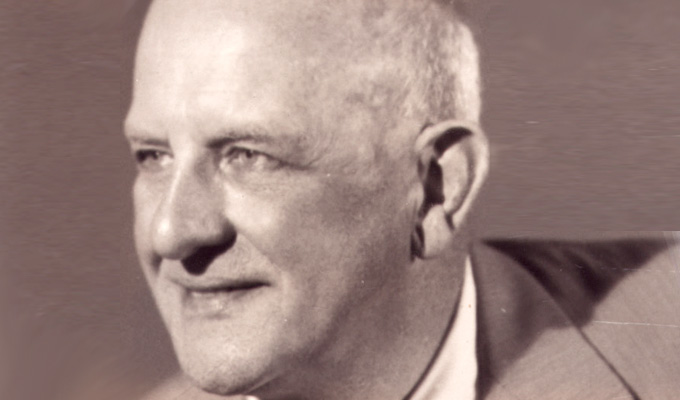 The hunt is on for a new comic writer
Today Chortle launches a new comic writing competition in honour of P.G. Wodehouse.
As well as the title, the winner of the P.G. Wodehouse New Comic Writer award will win a weekend writing course (worth £425) plus a bundle of books by the man widely regarded as the best comic novelist of the 20th century.
The competition coincides with the centenary of the publication of Something Fresh, the first of his novels set in Blandings Castle - featuring a valuable scarab unwittingly acquired from a dyspeptic American billionaire, plus imposters, engagements, broken engagements, elopements, mistaken identities, family spats and shots fired in the dead of night.
To enter, you must write a 500-1,000 word comic short story or extract. Then upload your entry with your details using the online form below by 23:59 GMT on September 30, 2015.
All correctly completed entries will be forwarded to a judging panel made up of Chortle employees, Random House employees, writer Nina Stibbe and the Wodehouse estate. The winner will be the entry that in the opinion of the judges is the funniest and best-written story.
The prize is a weekend creative writing course from November 13-15 at Studio Farrows, run by Random House novelist Miranda Glover, with guest speaker Jem Roberts, Douglas Adams' official biographer and Wodehouse expert. Travel is included, as well as a bundle of Wodehouse novels.
Terms and Conditions apply. Click here to view..
The Studio Farrows writing course
Studio Farrows is an artistic haven and bed and breakfast set on the edge of the magical Somerset Levels. Three-time Random House novelist Miranda Glover and owner, artist Tracey Baker, collaborate on creative writing weekends here that inspire, stimulate and support writers to shape ideas into tangible projects. This exclusive weekend combines an introduction to shaping a novel with a focus on Saturday on the comic genre. Writers of all levels are welcome. Great food, company and laughter are thrown in for free.A ccommodation is both at The Studio and at Monk's Dairy House. At just £425 fully inclusive for individuals and £375 each for pairs, this is an invaluable yet affordable creative opportunity not to be missed. Click here to find out more.
About Jem Roberts
In his own words, Jem is a comedy author, storyteller, historian, folklorist, journalist and occasionally singer of unforgivable songs at cabaret and burlesque. He was born in Ludlow and studied English, Film & Television at Aberystwyth University. A lifetime in magazines led to the honour of writing his first book, the acclaimed Clue Bible, The Fully Authorised History of I'm Sorry I Haven't a Clue, whereupon a life-long adoration for Blackadder made The True History of Blackadder a must. The Frood, his third book, is probably the closest to heart. He lives in Bath, where he runs the comedy gang 'The Unrelated Family' and writes strange tales for young readers.
About P.G. Wodehouse
The author of almost 100 books and the creator of Jeeves, Blandings Castle, Psmith, Ukridge, Uncle Fred and Mr Mulliner, P.G. Wodehouse was born in 1881 and educated at Dulwich College. After two years with the Hong Kong and Shanghai Bank, he became a full-time writer, contributing to a variety of periodicals including Punch and the Globe. He married in 1914. As well as his novels and short stories, he wrote lyrics for musical comedies with Guy Bolton and Jerome Kern, and at one stage had five musicals running simultaneously on Broadway. His time in Hollywood also provided much source material for fiction.
Find out more about P.G. Wodehouse and his novels at www.wodehouse.co.uk Or follow on Facebook or Twitter
The 100th anniversary edition of Something Fresh will be published on October 22. Preorder.
Published: 4 Sep 2015
Recent News
What do you think?