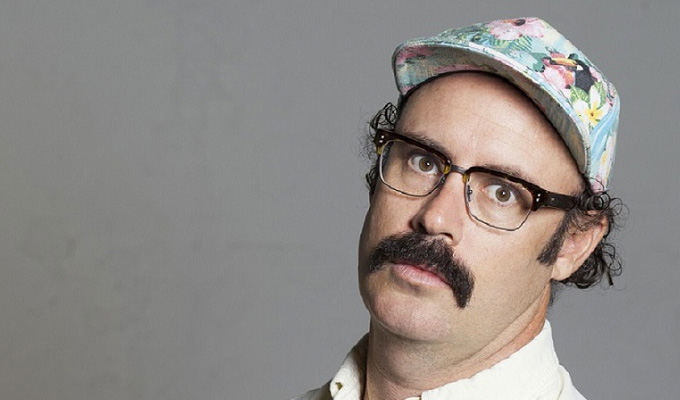 Sam Simmons scoops Edinburgh Comedy Award
Australian absurdist Sam Simmons has won the main Foster's Edinburgh Comedy Award for the best show on the Fringe.
Collecting his prize, worth £10,000, he thanked all the people who 'had fingers in my pie' and paid tribute to four-times nominee James Acaster: 'Where's James? I'm going to be the villain here. Sorry man. I was like the Ayrton Senna and you're like the Alain Prost and now I feel like you're the Ayton Senna - you just drove too fast'.
Awards producer Nica Burns said: 'Sam Simmons has funny bones. He is a complete original, combining physical comedy with great verbal jokes and a unique take on life.'
'His 2015 Edinburgh show is outstanding, This is a comedian at the top of his craft who has grown substantially since his two earlier nominations.'
Simmons's victory comes five months after winning the Barry award for the best show at the Melbourne International Comedy Festival.
Sofie Hagen won the £5,000 best newcomer prize. Collecting her award, she said: 'I think the Fringe is where you learn what you can and cannot do. I could not have done this without a lot of people' and specifically thanked her director Dec Munro as well as her agent, PR, flyerers – and 'Jesus'.
Burns said Danish-born Hagen was 'a young comic with an effortless engaging style. The audience is totally charmed as she delivers her story with a twinkle in her eye and an armful of jokes.'
The Gilded Balloon's Karen Koren won the panel prize for best encapsulating the spirit of the Fringe, in the year of her venue's 30th anniversary.
Chair of the panel Lucy Lumsden, head of comedy from Sky TV, praised Koren for being 'entrepreneurial, warm-hearted, a survivor and a great supporter of new talent' through the So You Think You're Funny? new act competition.
Koren said she was 'shocked' at the decision and paid tribute to the comedians who have performed at the festival: 'You are brilliant; you have worked so hard' as well as her staff and the other 'Big 4' venues, conceding that they do argue, but also collaborate.
Last year's winner John Kearns and cricket ace Freddie Flintoff handed out the awards this lunchtime.
A record eight shows were nominated for the main award, the biggest in live comedy, and seven for best newcomer.
The full nominations for the best comedy show at the Fringe were: James Acaster: Represent, Joseph Morpurgo: Soothing Sounds for Baby, Kieran Hodgson: Lance, Nish Kumar: Long Word… Long Word… Blah Blah Blah…I'm So Clever, Sam Simmons: Spaghetti for Breakfast, Sarah Kendall: A Day in October, Seymour Mace Niche as F*ck!, Trygve Wakenshaw: Nautilus
It was the fourth successive nomination for Acaster, and the third nomination in five years for Simmons.
The nominations for best newcomer were: Adam Hess: Salmon, Daphne Do Edinburgh, Larry Dean: Out Now!, Sofie Hagen: Bubblewrap, The Story Beast, Tom Ballard: Taxis & Rainbows & Hatred, Tom Parry: Yellow T-Shirt
Burn said the number of nominees 'demonstrates the vibrancy of the Edinburgh Fringe and extraordinary range of talent at the festival'.
This year's panel was BBC radio producer Carl Cooper, journalists Alex Hardy (The Times), Ben Williams (Time Out) and John Nicholson (Mirror Online), Just For Laughs producer Zoe Rabnett, Charlie Perkins who is multi-platform content developer with Blink Industries and public competition winners Dave Deverick, Kate Emmett and Mark Muldoon.
Published: 29 Aug 2015
What do you think?