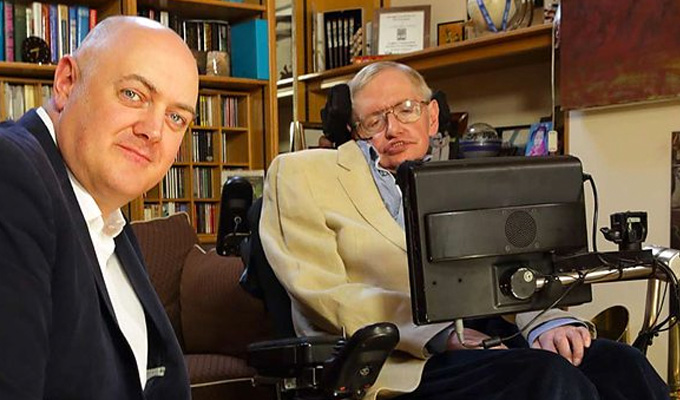 When Dara met Stephen Hawking
Dara O Briain is to present a one-off documentary about his hero, Professor Stephen Hawking.
The comedian – and theoretical physics graduate – spent time with the scientific genius at his home, his place of work and on his social engagements for the BBC One show, due to air on June 16.
Commissioning editor Craig Hunter said: 'It's a delight to watch Dara and Stephen's friendship develop with honesty and insight - especially as Dara is fulfilling a childhood dream meeting his hero.'
In the programme, the professor tells O Briain that he would consider ending his own life if he became a burden to others or if he had 'nothing more to contribute'.
'To keep someone alive against their wishes is the ultimate indignity,' said the 73-year-old, who was diagnosed with motor neurone disease at the age of 21.
In the film – straightforwardly titled Dara O Briain Meets Stephen Hawking – the Mock The Week host also interviews Professor Hawking's two children, Lucy and Tim, as well as his colleagues, students and close friends.
The documentary was commissioned following the Oscar-winning success of the Hawking biopic The Theory of Everything, in which the scientist was played by Eddie Redmayne. It was co-produced by Mark Wells at Rain Media Entertainment and Steven Lappin at Big Red Productions for the BBC.
Hwaking is director of research at the Centre for Theoretical Cosmology at the University of Cambridge.
Published: 3 Jun 2015
What do you think?