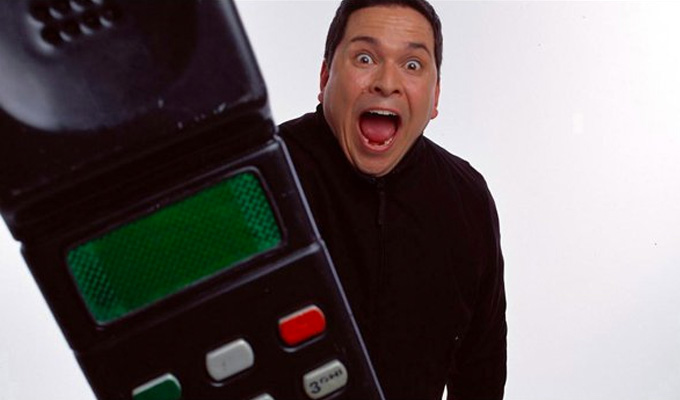 Trigger Happy to return
Dom Joly is bringing back Trigger Happy TV after more than a dozen years.
Channel 4 has commissioned a new series which promises to be more 'cinematic' that the original 17 episodes that made him the king of the prank show.
Speaking on BBC London's Robert Elms show, Joly said: 'I'm bringing Trigger Happy back.
'I just went to Channel 4 yesterday. I'm doing it in a very different way. I'm doing it in kind of "modules" because I really want to make some cinematic-style ones. I want some really big hits.
'So it's not coming back as the original show, it's coming back as a Trigger Happy stunt show, so I'm quite excited about that.'
The original series ran from 2000 to 2003 and spawned an American spin-off, but Joly says he found the fame that it brought 'really terrifying',
'I didn't want that level,' he said.'All you think is that you're being judged.
'I'm better off on the outside biting at ankles. I'd become kind of an "ish" celebrity, and it's difficult to take the mickey of celebs when you're in that world.'
After Trigger Happy he signed a deal with the BBC for a reported £5million, but produced only flops.
He admitted: 'When I got to the BBC I got lazy I think. I was making stuff and thought it would all be fine. I had a three series deal and it just tanked. I hated being at the BBC.'
However he said: 'The third one was one of my favourite shows –  World Shut Your Mouth – but nobody watched it.'
And in scene worthy of W1A he said he was never formally told what his future was at the BBC, so kept coming in to Television Centre in London until one day his 'pass didn't work'.
In 2011, Joly spoke of making a big-budget film based on Trigger Happy which he said would be 'the Ben Hur of hidden camera'
Although he promised huge set pieces, featuring hundreds of extras in flashmob-style stunts, the movie never materialised.
He told Chortle at the time: 'To me flashmob is brilliant. I like the idea, but all anyone ever seems to do with it is dance. I want to do something a bit more interesting.'
Published: 21 May 2015
Recent News
What do you think?