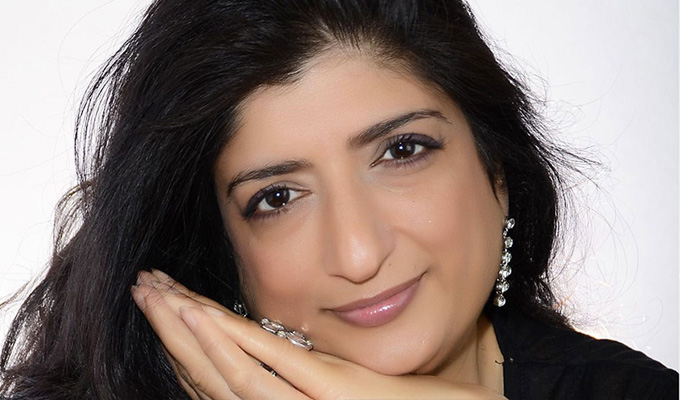 'The courage to create change with humour'
Comedian Sajeela Kershi hasi won an Asian Women of Achievement Award.
She scooped the arts and culture category at a ceremony attended by the Duchess of Gloucester, Home Secretary Theresa May and Shadow Foreign Secretary Hilary Benn.
The judges said Kershi impressed them with 'her unbridled passion and courage for creating social change through humour, especially through the politically charged area of immigration'.
'In addition to her humour, the judges loved that she showed a strong social conscience: all of the profits from her comedy club, Comedy Cottage, are donated to charity.'
As well as running the club in Redhill, Surrey, Kershi is known for curating the Immigrant Diaries biographical storytelling nights, one of which was staged at London's South Bank Centre last month. She first came to attention playing an audience stooge in Brendon Burns's 2007 Edinburgh comedy-award winning show.
Also nominated in the arts and culture category of the Asian Women Of Achievement award were Piali Ray OBE, director of production company Sampad; Neishaa Gharat, founder of designer label House of Gharats; Holby City actors Jing Lusi and Stephanie Street; and songwriter and violinist Diana Yukawa
Kershi said: 'I'm still in shock, did you see the other shortlisters in my category? So not for one second did I think I'd ever win.
'I'd like to dedicate the AWA award for every woman who has ever felt invisible in comedy and the arts due to her age, gender, race, religion, disability or sexuality. Unfortunately we're still far off from it being a level playing field but events like the AWA awards help to address this, so that makes me even more happy to be a part of it.'
Other winners on the night included Sevasti Wong, managing director of accountancy giant Accenture; Curzon PR founder Farzana Baduel and Annie Zaidi, the youth engagement coach at Leicester City FC.
Published: 21 May 2015
What do you think?