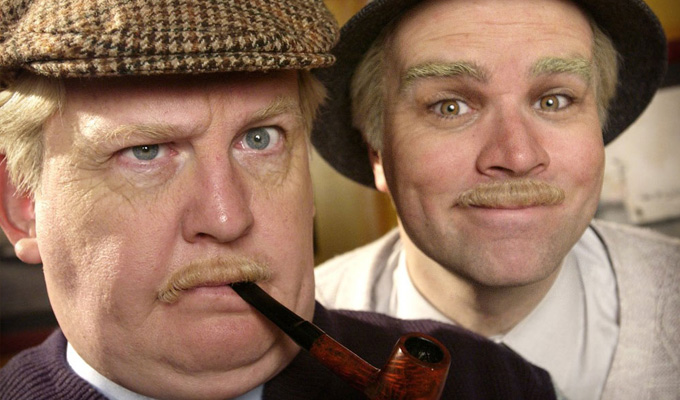 Still Game 'isn't Scottish enough'
It is one of Scotland's biggest comedy successes, but last year's mammoth stage run of Still Game has been ruled out of a major theatre award – for not being Scottish enough.
The show was created by Glaswegians Greg Hemphill and Ford Kiernan, set in the city and featured an all-Scottish cast.
All 47 of the sitcom episodes were filmed in Glasgow for BBC One Scotland before transferring to a UK-wide broadcast on BBC Two; and last year the live version ran for 21 sold-out dates at Glasgow's Hydro, making £6million in ticket sales.
But judges of the Critics' Awards for Theatre in Scotland have ruled it ineligible for any of its prestigious awards – because the run was produced by a London-based company, Phil McIntyre Entertainments.
The co-convenor of the CATS awards, Mark Fisher, said the rules were designed to ensure only genuine Scottish productions were considered.
Fisher, who is the Scottish theatre critic for The Guardian, told Chortle: 'The rule we have for CATS eligibility is that a show must be substantially produced in Scotland. This is the best method we've found to make sure we celebrate work created in Scotland, as opposed to, say, a group of Scottish actors putting on a show in London. And this is the criterion we applied to Still Game which, although performed in Scotland, was produced by the London-based Phil McIntyre Entertainments.
'It's actually a way of making decisions based on location, not on ethnicity – kind of the opposite of the charge that we thought Still Game wasn't Scottish enough.'
Hemphill was clearly baffled by the decision, tweeting: 'Written by Scots, performed by Scots, in Scotland. Not Scottish. Hahaha! #stillgamelive'
Fellow comic Limmy was more direct, calling it a 'fucking joke', while fan Andy Smith tweeted: 'The only way it could have been more Scottish was if Rod Stewart had done a cameo.'
And Edinburgh-based arts journalist Brian Fergusson tweeted: 'The fact the production company of Still Game: Live was English seems a bizarre reason to rule it out for the Scottish theatre awards.'
As well as the creators the stage run starred Paul Riley (born in Glasgow), Mark Cox (born in Glasgow), Jane McCarry (born in Glasgow); Sanjeev Kohli (born in London but brought up in Glasgow since the age of three) and Gavin Mitchell (born in Glasgow).
The CATS awards announced their 2015 shortlists last night, with Edinburgh's Royal Lyceum Theatre dominating the nominations, Six shows staged at the venue – which has been hammered by a 17.5 per cent cut in its public funding – racked up 17 nominations across eight categories.
Published: 14 May 2015
What do you think?