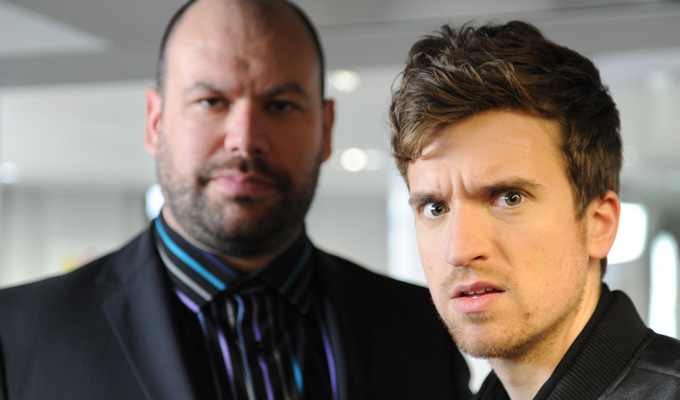 BBC's next comedy pilots revealed
Six new comedy pilots are to be launched on BBC iPlayer, featuring the likes of Dane Baptiste, Liam Williams, Claudia O'Doherty, Miranda's Sarah Hadland and Funz and Gamez.
The new shows – exclusively revealed in full by Chortle tonight – mark the fourth year of the Comedy Feeds, which have so far spawned full BBC Three series for People Just Do Nothing, Nick Helm's Heavy Entertainment and the original UK version of Impractical Jokers, as well as the forthcoming Fried and Josh.
Baptiste, who was nominated for best newcomer in the 2015 Chortle Awards, after becoming the first black British nominee for an Edinburgh Comedy Award last year, wrote and stars in SunnyD, a family sitcom in which he's trapped in a mundane nine-to-five job and still lives at home with his moody twin and unsympathetic parents.
Rising Damp's Don Warrington is his father and Liz Hume-Dawson plays his mother, alongside Gbemi Ikumelo, Sasha Frost and John Thomson. An in-house BBC production, SunnyD is directed by Chris Cottam and produced by Lucy Armitage with executive producer Rebecca Papworth.
Radges is set in a pupil referral unit for children with behavioural and psychological problems in small town Scotland. It is written by stand-up Fern Brady, who spent some time in such a unit as a teenager.
It stars Sarah Hadland as the group's therapist, and the young cast also includes Lois Chinmimba as the arrogant, self-serving Mab, Lauren Lyle as nervous wallflower Lauren and My Mad Fat Diary's Nick Preston as the perpetually optimistic Kieran.
The pilot is directed by Simon Hynd, produced by Sam Bryant and executive produced by BBC Scotland's Steven Canny. Last month Brady told comedy blog Broken Nose Media that 'during casting I went from not wanting to be in it at all to deciding I wanted to play an anger management therapist.
'When the producer said they'd already got someone – and it turned out to be the amazing Sarah Hadland of Miranda/That Mitchell & Webb Look fame, so very possibly a better choice, I responded by getting very, very angry and shouting a Lot in a threatening way.
'I then had to retell the story to my anger management counsellor and she laughed as it was so ridiculous. Then I tried to tell it onstage and even very nice audiences just looked at me like I was a dick. I feel embarrassed just thinking about it now.'
Dead Air (pictured), is a comedy written by and starring stand-up and Radio 1 presenter Greg James and revolves around a DJ who fails to get a coveted breakfast slot,. It also features The Thick Of It's Olivia Poulet.
It was co-written with Shaun Pye and Mark Chappell, who have penned the forthcoming third series of The Increasingly Poor Decisions of Todd Margaret, and produced by Ben Cavey through his production company Cave Bear, which is currently making the Bad Education movie.
People Time is a character comedy sketch show that draws upon the regular stable of acts from London's Invisible Dot club. It is written by and stars Liam Williams and his Sheeps group mates Alistair Roberts and Daran Johnson, plus Claudia O'Doherty, House of Fools' Ellie White and siblings Jamie and Natasha Demetriou.
Made in-house by the BBC, it's directed by Andrew Gaynord, produced by Sam Michell and executive produced by Ben Farrell.
The two other, previously announced Feeds, are Fishbowl by Andrew Mettam, about a girl who drops out of university and goes back to stay with her weird family, starring Katherine Rose Morley, Mark Benton, Sally Lindsay, Felicity Montagu and Michael Smiley – and Funz And Gamez, based on the cult Edinburgh hit.
Winner of the 2014 Edinburgh Comedy Award panel prize, the children's show with Adult undertones has been adapted into a gameshow and again stars Phil Ellis, Mick Ferry, James Meehan and Will Duggan. It is produced by Lisa Clark and executive produced by Rebecca Papworth,
Duggan told fellow comic Dan Nightingale on his In The House podcast that 'the pilot is very different to the show. The live show was quite anarchic and on the hoof, and a satire of kids shows, whereas the pilot is more of a gameshow, it's supposed to make it marketable so if we get a series we can do bits and pieces with it'.
Shane Allen, the controller of comedy commissioning for the BBC, said: 'Comedy Feeds are a crucial and dedicated way for the BBC to find and support the next wave of British comedy talent both on and off screen. The range and quality is incredibly impressive and we wish all of the talent involved rich and long careers.'
– by Jay Richardson
Published: 13 May 2015
Recent News
What do you think?