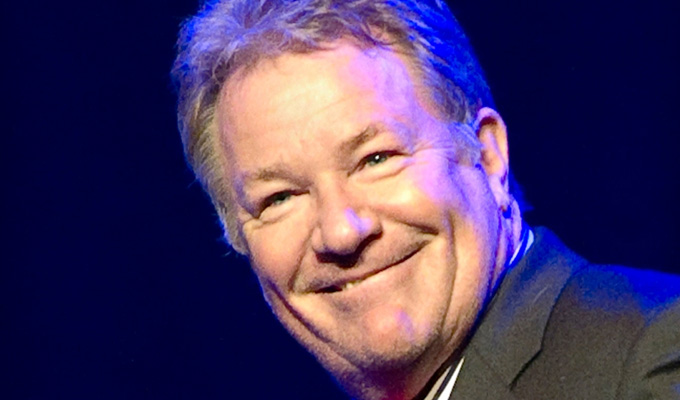 Jim Davidson shows pulled after fracas
Three Jim Davidson shows were pulled after the comedian was allegedly abusive to theatre staff.
Weekend performances of his Sinderella 2 adult pantomime at the Pavilion Theatre in Glasgow were pulled after the comic got into an altercation about drinking during the show.
Davidson had been banned from boozing in the venue, but admitted nipping over to the nearby Atholl Arms for a drink in the interval – where he was spotted in his purple panto costume.
Tempers reportedly flared when his wife Michelle was barred from entering the stage door, making Davidson 'upset and angry'. Theatre worker Ashleigh McEwan told The Scottish Sun the comic 'kicked the door open and left in a strop'.
Davidson went to the pub with his friends and admitted having 'a extra pint that night' – but denied being abusive. He also complained about the theatre's ban on him drinking during the day or during the interval.
Ticket-holders were told the performances had been pulled for 'health and safety and staffing concerns'.
Theatre manager Iain Gordon later said: 'He was abusive to a member of my staff to whom I have a duty of care and this was unacceptable.'
He told Chortle the incident was 'all water under the bridge now', but added: 'It saddened me to cancel the show given the long association that I have had with Jim. But he really left us with no alternative, the audience, other cast members and theatre staff must come first.'
In other comments to the press, Gordon accused Davidson of being 'unprofessional' and said he found two empty wine bottles in the dressing room. He said: 'You can't be drinking at your work place. Jim agreed but because I banned drinking on the premises he nicked across to the Atholl Arms during the interval — still in costume.'
Davidson reportedly make references to the ban during his performance, telling the audience: 'It's all right for you lot to drink — but we're banned'.
After the shows were cancelled, Davidson tweeted: 'The manager has announced that Sinderella is cancelled. The cast and I are shocked. But it's his theatre and this is beyond MY control. Shame.'
In an interview with the Evening Times in Glasgow, Davidson added 'I wasn't abusive to anybody… I feel really disappointed about the Glasgow audience. I feel they've been let down.'
Audiences were given a full refund for the cancelled shows, which also starred former Miss Scotland contestant Deone Robertson and Rab C Nesbitt actress Nicola Park.
Davidson's representatives have not responded to our request for further comment.
Earlier this year, Davidson pulled a gig at the Regal Theatre in Evesham with an hour's notice after he found the stage too high. And in 2011, Davidson made public an email from the Theatre Royal in Norwich which explained he was not welcome back after an assessment form said he was 'very rude to staff. Arguments over figures, drinks etc, and personal comments that are not acceptable' on his previous visit.
Here is a review of Sinderella 2 from Glasgow.
Published: 25 Mar 2015
What do you think?