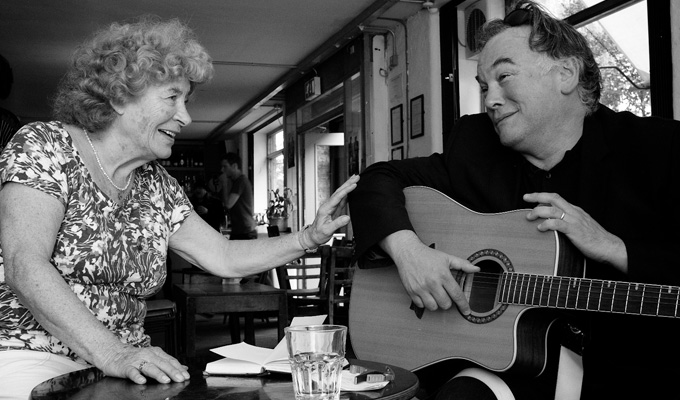 Stewart Lee records a folk song
Stewart Lee has recorded a track for a new folk music album.
The comic sung a version of the old ballad Polly On The Shore for a compilation album in tribute to 79-year-old folk singer Shirley Collins (pictured with Lee, above)
Shirley Inspired features covers of songs she has performed over her career, and other contributors include Blur guitarist Graham Coxon, Sonic Youth co-founder Lee Ranaldo and US folk singer Josephine Foster.
Lee, who recorded the song with concertina player Stuart Estell, said: 'Even though I am a folk fan, I like lots of different music and Shirley's in the top ten of all artists for me, irrespective of what they're supposed to be classified as.'
Collins, a significant figure in the English folk revival of the 1960s and 1970s, said: 'I've been overwhelmed by the generosity of the singers and musicians who responded to the invitation to be part of the Shirley Inspired collection.
'Their choice of songs is fascinating, the interpretations of them fresh and various, beautiful and sometimes challenging!Listening to these recreations shows me again that English folk music has timeless power and significance.'
The album will be released on Record Store Day, April 18; Click here for more details.
Here is Lee's version of Polly On The Shore:
And here he is speaking about Collins' work and influence in an interview last year:
Published: 20 Mar 2015
What do you think?