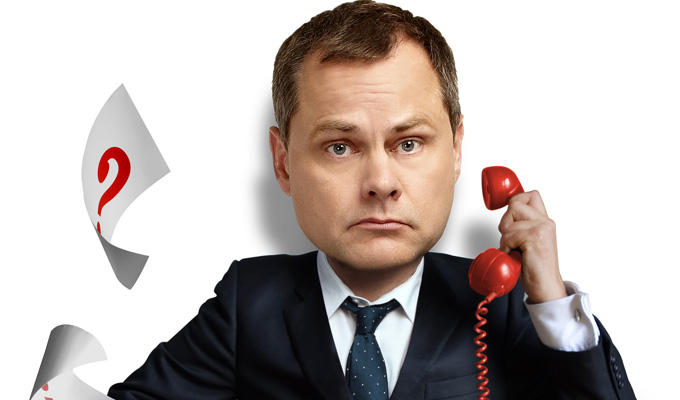 Jack Dee's Helpdesk comes to TV
Jack Dee's Helpdesk is coming to TV.
The comic is recording three election-themed shows next month for BBC Two.
The format, in which the audience write problems on a card to be addressed by a panel of comedians, was first previewed at London's Soho Theatre last year. Dee has since performed it at the Latitude Festival and in Edinburgh, and has a short tour coming up in April and May.
The specials he is recording for TV are designed to 'offer a snapshot of everyday concerns as we approach poling day' on May 7.
In an interview with Dubai radio DJ Catboy, ahead of a gig in the Emirates, Dee said: 'It's been doing really well and in fact I've been asked to do some for BBC Two leading up to the election so we'll be doing three specials which are election-based.
'It's a fun format, everyone has a good time, it's completely unprepared. No one knows what's going to come up, it could be anything from dogs with bad wind to "I live with my partner and I never tidy up".'
The shows will be recorded in London on Sundays April 12, 18 and 26, with producers suggesting the audience come armed with questions such as: 'My dog barks at the sight of Ed Milliband; what should I do if we wins and is on TV more?' or 'Were the Coalition to lose the Election should I change my Cameron and Clegg garden gnomes and if yes, who to?'
Here is Chortle's review of the live show.
- by Jay Richardson
Published: 19 Mar 2015
What do you think?