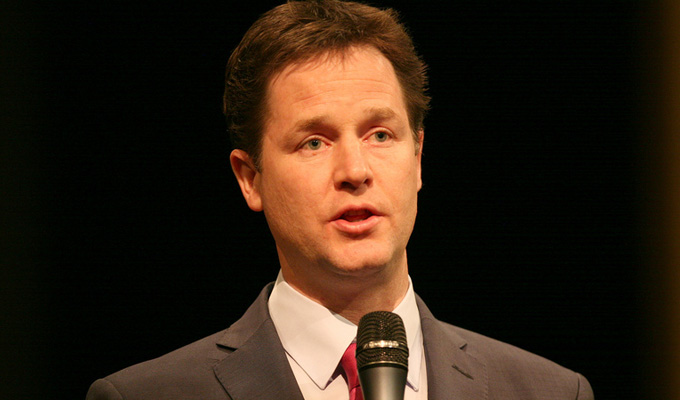 The Last Clegg
• Death Row prisoner Richard Glossip has revealed how he spends the final days before his execution date – Watching Last Of The Summer Wine. The inmate was due to die yesterday but was given a last-minute stay of execution by America's Supreme Court. He told Sky News: 'I love watching that show because it just makes you feel really good. It's helped me a lot. I think Last Of The Summer Wine is one of the most incredible shows ever made'. And he said his favourite character was Compo because 'he chose to lead a life so simple... He's happy just going out and laying on a hill somewhere, laying on the grass, having a cup of tea, or doing something silly.'
• Deputy Prime Minister Nick Clegg is to appear on The Last Leg tonight. The Lib Dem leader will be on the live Channel 4 show after accepting host Adam Hills' challenge to tell co-host Alex Brooker, a proud non-voter, why he should go to the ballots. It follows this video message a couple of weeks ago…

• You'll never guess what's just topped a new poll of favourite Only Fools And Horses moments for UKTV Gold! Yes, it's Del Boy falling through the bar….
• At the red carpet of the Screen Actors Guild awards on Sunday, interviewer Danielle Demski no doubt thought she was being complimentary when she praised Parks & Recreation star Rashida Jones's tan.'You look like you've just come off an island or something, you're very tan, very tropical,' Danielle gushed. Rashida is, rather famously, the daughter of Quincy Jones… who is equally famously black.
• Jo Brand and Alan Davies are to take part in the next series of Channel 4's Million Pound Drop.
• John Oliver fired a taser gun into himself after a gig last year. It came in Afghanistan after he performed for the troops. He told David Letterman: 'I came off stage and this guy said, "I really enjoyed that show – do you want to tase yourself" so I said "yes"…. It hurts exactly as much as you would think shooting yourself with electricity hurts.' Worse, he said, was that it was in a small room rather than on stage with an audience – 'at least that would be entertaining on a broad level. This was just one dude saying "hurt yourself" and me going "OK – zap". He laughed and I did it again.'

• Meanwhile, Letterman is not exactly respectful of James Corden landing the job hosting America's Late Late Show, referring to him as 'that chubby guy that got the show, from Great Britain,' and 'the tubby kid' in an interview in which he also criticised the Wrong Mans star for taking until March to start the job, saying: ' God forbid, I don't wish ill on anyone but I think something's gone wrong or he'd be here.'
• There are 20,000 stitches in the Arkwright logo on the aprons worn by David Jason and Tim Healy on the set of Still Open All Hours. And, yes, we at Chortle do read some pretty obscure articles in our quest to bring you all the comedy news, thanks for noticing.
• Jimmy Carr has been holidaying this week on St Bart's with Princess Beatrice and her boyfriend. #manofthepeople.
• A fine spot courtesy of Twitter this week… this title doesn't quite have the same ring as Richard Herring's tour's actual name, Lord Of The Dance Settee:

@Herring1967 I think somebody fucked up ? pic.twitter.com/GkZVHKWzC8

— steve (@lil1twit1face) January 23, 2015
• Corporate corner: Alun Cochrane was the entertainment at the glamorous Heron & Brearley Managed Estate Awards 2014.
• Tweets of the week
Dru (@dru0887): It's all about perspective. The sinking of the Titanic was a miracle to the lobsters in the ships kitchen.
Oonagh Keating (@Okeating): I was aggressively abused by over 10000 homeopathy fans for making a disparaging remark. Well, 1 of them blocked me but it's the same thing
Chris (@ChribHibble): If you sit on your boss until they go numb, it feels like someone else is asking you what the fuck you're playing at.
Published: 30 Jan 2015
What do you think?