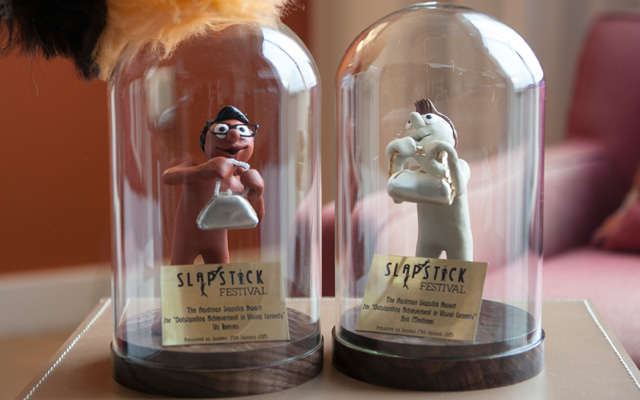 Vic and Bob get Slapstick honour
Vic Reeves and Bob Mortimer are today receiving an award for excellence from vintage comedy festival Slapstick.
The award is given annually by animation company Aardman and the festival organisers to honour current screen performers who are 'worthy heirs to the earliest silent film comedians'.
Vic and Bob's award, to be presented at the Bristol Old Vic, recognises the duo's 25 year contribution to visual comedy through TV shows such as Big Night Out, Shooting Stars and House Of Fools.
The presentation will include video messages from fans, friends and collaborators, including artist Damien Hirst, Shooting Stars team captain Ulrika Johnsson and comedians Jo Brand, Jack Dee, Charlie Higson and Matt Lucas.
The award comes with personalised versions of Aardman's own double act, Morph and Chas, pictured above.
Aardman co-owner David Sproxton said: 'It is important to keep alive an interest in visual humour. As the global and enduring popularity of our Morph and Shaun The Sheep animations proves, it's one of the few ways in which we can unite people of all ages, backgrounds, nationalities, languages and cultures.
'So we are delighted to see this year's Aardman Slapstick Visual Comedy Award going to Vic Reeves and Bob Mortimer, in recognition of the attention they have paid to using visual and physical gags throughout their careers.
'This creates humour that almost everyone can find funny – which is what we at Aardman also aim to do in the great majority of our work.'
Previous winners of the same award include Eric Sykes, Michael Palin, Barry Humphries, The Goodies and June Whitfield.
Here are Vic and Bob doing slapstick…
Published: 25 Jan 2015
What do you think?