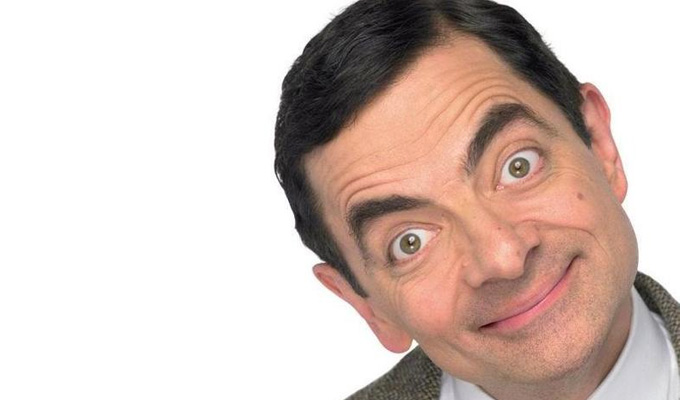 Mr Bean's back
Mr Bean is making a TV comeback, Chortle can reveal.
Rowan Atkinson's hapless character is returning to screen in a sketch for Comic Relief – 25 years after his ITV debut.
Details of the film, which was shot last week, are still under wraps. But a BBC spokesperson said: 'I can confirm there is a Mr Bean sketch for Red Nose Day on Friday March 13'.
Atkinson has only made one TV sketch as Bean since the series ended in 1995, a wedding scene released for Red Nose Day in 2007.
But he has made two films, a cartoon spin-off, music videos and appeared in the London 2012 Olympics opening ceremony. He also  revived his  internationally popular alter-ego last year in a Crouching Tiger, Hidden Dragon-style spoof advert for Snickers.
Atkinson last appeared on Comic Relief in 2013, when more than 2,500 people complained to Ofcom that his parody of the Archbishop of Canterbury broke rules about offensive language, discrimination and offence against religious beliefs.
The BBC issued an apology for the sketch's tone, removed it from the iPlayer and withdrew a follow-up sketch set for broadcast later in the evening. But the broadcast watchdog said the corporation had not breached any rules.
The actor has been an outspoken campaigner for free speech and the 'right to insult'.
Despite his occasional appearances as Mr Bean, Atkinson has ruled out a more substantial comeback as the character. In 2011, he said: 'I've always regarded Mr Bean as an ageless, timeless figure. I don't want him to particularly grow old, and if I carry on playing him then he's going to get older, whether we like it or not. I would like to remember Mr Bean how he was five or ten years ago.'
However, a new series of The Mr Bean Animated Series will debut on ITV next month.
Atkinson co-wrote the original Mr Bean series with Comic Relief founder Richard Curtis, Robin Driscoll and, on one occasion, Ben Elton. Last week it was reported that another Curtis creation, The Vicar of Dibley, is also returning for Red Nose Day 2015, featuring Dawn French's clergywoman Geraldine Granger attempting to become a bishop, reflecting the latest changes in the Church of England.
-by Jay Richardson
Here is Atkinson as Bean in the 2012 Olympic opening ceremony:
Published: 20 Jan 2015