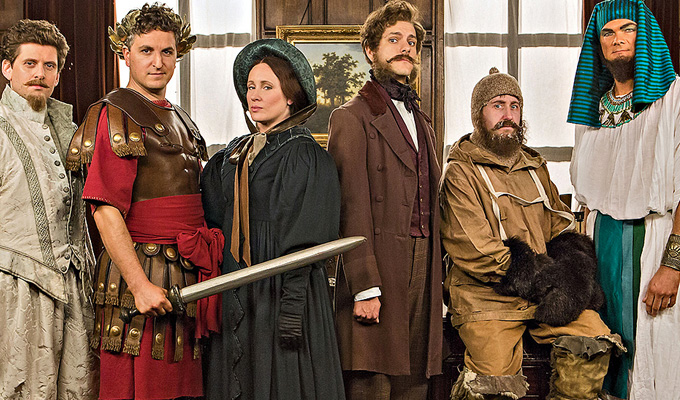 Rowan Atkinson joins Horrible Histories
Rowan Atkinson is returning to period comedy – by making a guest appearance in Horrible Histories.
The comic will be 'wearing tights for the first time since Blackadder' to play Henry VIII in the sixth series of the CBBC sketch show.
Other comics making guest appearances include Ben Miller, who will be playing King John in a special edition to mark the 800th anniversary of Magna Carta; Tom Rosenthal who plays Alfred The Great; Kevin Eldon as William The Conqueror and Lorna Watson as Boudica.
The programme's return was today confirmed by Greg Jenner, its historical consultant, despite producers saying that the fifth series in 2013 would be the last.
He also told Radio 2's Simon Mayo: 'We thought we needed to up our game' for the new series – which will also feature Sanjeev Bashkar as the show looks more into world history.
The sixth series will include a 'brand new cast of incredibly talented new comedy performers', Jenner said, as the original performers have gone on to other things, including Sky's family comedy show Yonderland, and the forthcoming BBC comedy film about Shakespeare, titled Bill – see trailer below.
However some of the original cast will be returning, including Jim Howick, Simon Farnaby, Sarah Hadman (now best known for Miranda) and Lawrie Lewin.
In 2013, producer Caroline Norris said it was becoming too hard to find with suitable facts for the basis of sketches. 'Fifty per cent of the sketches written this time went in the bin because you were working with much thinner facts,' she said. 'Greg's job has become more and more difficult because he can't find historical facts that will work.'
Last week the books on which the TV series are based were blamed for 'dumbing down' teaching in schools by the Civitas think tank. But Jenner said many parents had thanked him for introducing their children to history. 'The aim is to get them to appreciate, enjoy the past,' he said. Although obviously it's a comedy show. There are jokes.'
'It is factually accurate comedy sketch show… there is lots of poo and wee and blood and guts and gore… It's anarchically joyful.'
Published: 5 Jan 2015
Recent News
What do you think?