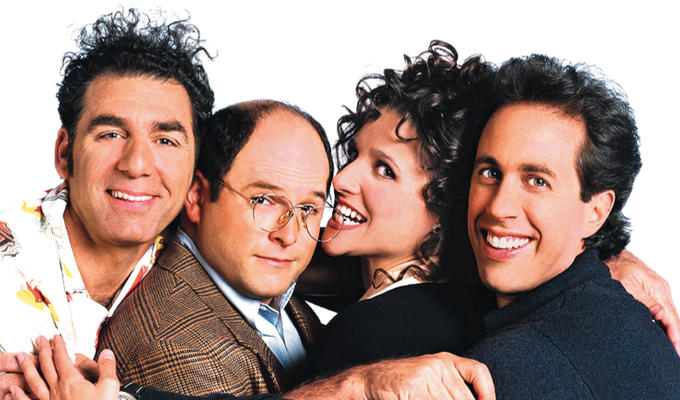 The underwater Seinfeld
• 'I think some people have forgotten that I am a stand-up comedian' Ricky Gervais.
• Activists who staged a protest outside Parliament today against new clampdowns on what's allowed in online pornography have channeled Monty Python to make their case. Lyric sheets changing the words of the Sit On My Face to Cum On My Face were distributed among the crowed, who say the government is taking away personal freedoms about sexual preferences.
• Billy Connolly is the Scot most people would like as a Christmas dinner guest, according to research 'to raise the profile of the importance of cooking with top quality ingredients such as specially selected pork'. Important work, fellas…
• We're not quite sure what US comedian Mike Merryfield was doing filming during his own set this week, but he did capture this even odder behaviour from an audience member:

• Tom Hanks checks into hotels under the name of Scottish comedian Harry Lauder. At least he did until the Sony hacker revealed that secret.
• Buzzfeed are asking Which British comedian are you? in one of their time-wasters. We got Stephen Fry.
• A Seinfeld fan has created and exact replica of the sitcom's set – in his fish tank. Matt Davidson even matched his five fish to the characters' personalities: from 'fiesty and beautiful' Elaine to Newman, a lazy bottom feeder.
.
• Nigel Farage accused Russell Brand of having a personal make-up artist who straightened his chest hair for him during their clashes on Question Time last night.
• Prepare to despair for the future of comedy, after Whoopi Goldberg had to issue (f'nar) a clarification that she hadn't actually farted when this happened on American TV show The View:

She subsequently had to explain to the hard-of-thinking that at when the unexpected noise kicked in 'I'm gonna pretend I let a little something go. As a joke. I know you think that I don't do that any more [make jokes]. I do, I make funnies. I don't fart on air for real!' Mind you, she did get her name from the whoopee cushion, having s stated that 'If you get a little gassy, you've got to let it go. So people used to say to me, "You're like a whoopee cushion.'
• 'All comedians are like strippers.' Richard Gadd
• Tweets of the week
Ian Power (@IHPower): I had a role in the film 'Driller Killer'. It was a bit part.
Dave Turner (@mrdaveturner): So are we just taking any word and adding "bomb" on the end of it now? From now on, I'm calling poos "bumbombs".
TittyBiscuits (@dawneywawey/a>): "Hello, and welcome to Comestic Surgery Addicts Club. I can see one or two new faces tonight. You've let yourselves down."
Published: 12 Dec 2014
What do you think?