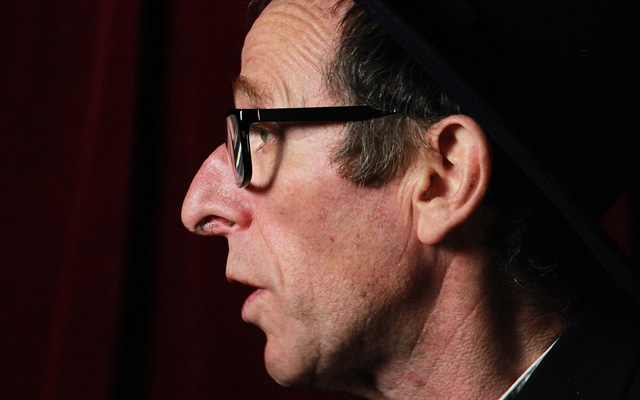 Jewish comics blacklisted over charity gigs
A rift has broken out among Jewish comedians over a pro-Israel charity.
Circuit veteran Ivor Dembina has banned comics from appearing at his club if they performed for at a fundraiser JNF (Jewish National Funds).
He has branded the organisation 'racist' and says he would never book a comedian who publicly supported such an organisation.
The JNF was set up to buy land in the Palestinian territories, and stipulated that only Jewish people can buy its sites – which comprise around 13 per cent of the state of Israel. After falling foul of the discrimination laws, land is now sold to non-Jews, but the Fund is then 'compensated' with another plot of the same size.
Its UK branch also funds humanitarian work, and its last Kosher Komedy and Kabaret benefit in November was in aid of Israeli civilians affected by Palestinian attacks.
Stand-ups hit by the ban have accused Dembina of being a 'bully' with a 'threatening manner' – and have set up gigs to rival his long-standing Traditional Jewish Christmas Eve shows.
'I've known Ivor for 20 years, we were friends and he taught me a lot,' said Steve Jameson, who performed in character as old-school Jewish comic Sol Bernstein at the JNF benefit. 'So it's a shame it has come to this.'
'I know his politics and respect them, but he should respect mine. And after losing a couple of nights sleep over this, I told him, "You're a bully and you're trying to intimidate me."'
Speaking to Chortle, Jameson also accused Dembina of hypocrisy, saying: 'He should put a sign up at his club saying JNF members not welcome - but he won't because that would affect his bottom line.'
Another blacklisted comedian, Bennett Arron, agreed, saying: 'The thing that annoys me the most is the fact that his audience doesn't know his views. And he keeps it quiet. Maybe he should ask everyone who comes into his show what their own views are – and then decide if he will allow them in.'
Meanwhile, Mark Maier, who has also appeared in JNF fundraisers, told Jewish newspaper The JC: 'It was the threatening manner in which he spoke to me that I objected to.'
Dembina runs the Saturday night Hampstead Comedy Club which now, confusingly, runs at the Camden Comedy Club in North London.
In a statement he said: 'At the Hampstead Comedy Club I have always had a policy of not booking acts who publicly endorse racist organisations. I regard the JNF as, at the very least discriminatory against Palestinians in its practice, and I believe there is sufficient evidence to suggest that, as an organisation, it is, consciously or otherwise, racist in its outlook.
'The JNF is not being singled out.  I would not book anyone who publicly supported an organisation that I regarded as racist. That would include the EDL with its anti-Muslim rhetoric, and the BNP who express anti-Semitic views, or anybody else who advocates persecution or discriminatory treatment of another group of people.
'Some Jewish comedians don't like this policy just as there are many who don't mind it and others still who appear to support it.
'The strength of the Hampstead Comedy Club is that my audience has always contained people of all religious persuasions and none, as well as those with a variety of political opinions. The wider comedy audience know my politics and that I take my long-held anti-racist beliefs very seriously; just one reason why Jewish people and non-Jews of all ethnicity have found the Hampstead Comedy Club such a welcoming place for 20 years.'
Daphna Baram said she supported Dembina's stance, and would be taking part in his Christmas Eve show.
She told Chortle: 'The JNF is the main tool of dispossession of Palestinians off their land, both historically and currently.
'I am aware that for many British Jews the JNF means the cute little blue box they used to put a coin in back in the naive old days, but it is time to wake up and face reality. Supporting the JNF is supporting the more racist among Israel's policies.'
Because of the rift, Arron has set up a rival Jewish Christmas show at Downstairs At The Kings Head on December 22, while Martin Besserman's Monkey Business is also running a rival comedy night on Christmas Eve.
The JNF has not yet responded to Chortle's request for comment.
Published: 12 Dec 2014
What do you think?