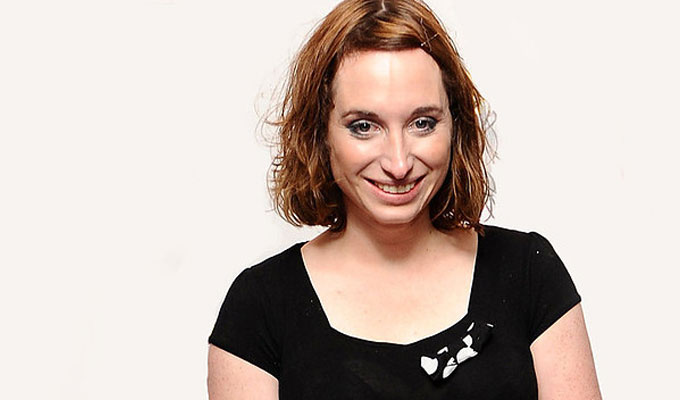 Isy Suttie writes her memoir
Isy Suttie is writing a coming-of-age memoir.
The Peep Show star's first book focuses on her anxiety about settling down and tempering her stand-up lifestyle.
She likens the book, which contemplates late twenties and early thirties relationships, to Caitlin Moran's memoir-manifesto How To Be A Woman, but says: 'I almost don't want to say that because that book's incredible.'
The musical comic, who recently had her first child with fellow stand-up Elis James, maintains that 'comedy is a job that makes you feel like you're forever young. I talk about how Edinburgh feels like summer camp a lot of the time – even if your show is going really badly, you can still go out and get drunk and forget about it temporarily, you can feel like you've got no responsibilities.
'I remember in 2008, I didn't have a great year. I didn't really love my show, it wasn't fantastic. I went out even more and if I didn't have that release, it would have been much harder.
'With normal gigs on the circuit, if you're doing a weekend in Nottingham with a few other comics, you end up going to a random student bar or going for a Chinese at 2am. It's absolutely brilliant and you could be 70 and doing that! You've not got a routine because you're in a different place each day'.
The 36-year-old recalls 'seeing all of my friends leaving London, maybe getting married, having kids, buying houses, and I didn't feel ready to follow suit. I was really questioning whether I would ever grow up and find anyone.
'It's quite a warm look at something that happens to a lot of people, that feeling of - "hang on, I'm not ready to have nights in and stop going to the pub, so why are you doing it?"
Richard Herring expressed similar concerns about approaching 40 in his 2010 book How Not To Grow Up!, but married comic and children's author Catie Wilkins two years later. They are now expecting their first child.
Suttie believes that comedians are 'definitely likely to find more understanding from a fellow performer. Sometimes it's difficult if you get offered something last minute and you really want to do it or have to do it. If they're a performer, they're more likely to go "ok, we'll cancel the restaurant'.
'I suppose you tend to get together with people in the same workplace too. There's a reasonably small pool of us and I think a lot of comedians hook up in Edinburgh, seeking solace!"
She won't be writing about becoming a parent in the as-yet untitled memoir, previously called Glass Half Full, because 'being content isn't as interesting to read about as something that's got a bit more movement in it, with anger and sadness. I never like reading about happily ever after'.
But she will reflect on failing to become a tennis champion or making a living from pinball, goldfish-murdering mothers, housemates obsessed with VAT and boyfriends who don't appreciate gifts of homemade human-sized penguins.
The book is due to be published next year by Orion Books, who recently brought out Rebecca Front's autobiography Curious, Tim Minchin's graphic novel Storm and Mitch Benn's Terra science fiction series.
Suttie reckons that if she'd stayed in her home town of Matlock in Derbyshire, 'I might have settled down earlier and married someone from school'. And she's channelled her adolescence into her first short film, The Best Night of Roxy's Life, premiering at the Loco Film Festival in London on January 25.
Featuring her Shameless co-stars Philip Jackson and Moya Brady, plus Alex Carter from Give Out Girls, Suttie plays a Stranglers super fan who travels to a gig planning to sing a song she's written to the band's bassist Jean Jacques Burnel.
Filmed over two days, 'it's really similar to my teenage years' she explains. 'I was obsessed by Carter The Unstoppable Sex Machine and used to go on these coaches from Derby to Birmingham and Leicester to see them.
'Then I got backstage to meet Carter and I just couldn't speak, they were my heroes and I was in the same room. I got so angry with myself. So this is me making peace with the me of all those years ago, what I would have done if I'd played Jim Bob from Carter a song I'd written.'
Winner of a gold Sony Radio Academy Award for her one-off Radio 4 show Pearl and Dave, Suttie returns to the station on Christmas Day with Music On Hold, a semi-serious investigation that finds the former call centre worker embarking on a quest to compose the ultimate hold music.
'It's easy to let that music wash over you, to try and do something else at the same time but it still goes in subliminally' she says. 'A lot of the process of making that was spent on the phone and being put on hold, ironically.'
Next year finds her writing a female monologue for Stafford Gatehouse Theatre about the Staffordshire Hoard, the 2009 discovery of the largest collection of Anglo-Saxon gold and silver ever uncovered.
And she confirms that she's returning for the final series of Peep Show, shooting next summer, despite her character Dobby moving to New York at the end of the eighth series.
'I might get to go to New York!' she jokes.
'[Writers Sam Bain and Jesse Armstrong] once asked me, "is there anything you want to happen to your character?" And I said "can she go to a derelict house?" And they said "is that because you like derelict houses?" And I said 'yeah'. Of course, there were problems with health and safety …
'Now I've done a music on hold documentary, perhaps I can do one on derelict buildings. I don't even care what it's about, I just want to go into a derelict building of some sort.'
- By Jay Richardson
Published: 12 Dec 2014
What do you think?