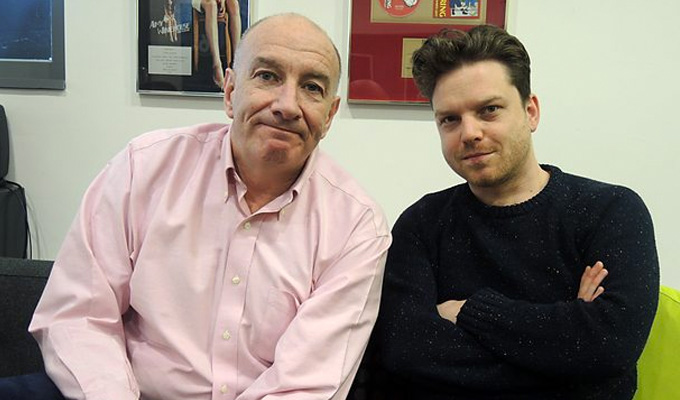 Caravan of comedy
Simon Day is being lined up to play a reformed violent criminal in a sitcom his regular collaborator Rhys Thomas is writing for the BBC.
The Fast Show star is set to reprise his character of Deptford armed robber Tony Beckton, who previously appeared on Bellamy's People and on Radio 4's The Simon Day Show, in a sitcom that Thomas is developing about divorced men living in a caravan park.
The BBC has commissioned a script, loosely based on the experiences of Thomas's father.
Day adopted a Welsh accent to tell Chortle: 'It's all based on Rhys' dad. "It's alright Rhys, I've got my caravan, I've got my beer and I've got my REM". It's a man, listening to REM, away from his wife, on a raised caravan …'
'… in a park full of divorced men,' adds Thomas. 'The women have got the houses and the men all live in caravans but they love it because they're free. But are they really free? There's a really good mix of people in a caravan park because you get doctors, criminals, they're all hiding from something, whether it's love, life or the police'.
Here is Beckton on Bellamy's People, with Thomas as Gary Bellamy :
The pair were speaking to promote their mockumentary Brian Pern: A Life In Rock, which transfers to BBC Two for its three-episode second series on Wednesday.
Thomas also revealed that almost an hour of extra scenes will be uploaded to the BBC's iPlayer over the course of the series, which co-stars Paul Whitehouse, Nigel Havers, Michael Kitchen and Lucy Montgomery, and features cameos from Sir Roger Moore, Kathy Burke, Jack Whitehall, Al Murray and Martin Freeman among others – with a particularly memorable turn from Sir Tim Rice.
'We've got ten minutes from episode one, ten minutes from episode two and half an hour for the final episode' he said. 'It's not B-roll, it's genuinely good. We have to do so much for three episodes because it's kind of like a sketch show, spoof documentary and a bit of a sitcom as well, there's so many ideas going into the one thing'.
The new series traces Pern's efforts to write a rock opera based on Day of The Triffids, stage a jukebox musical and record a Christmas album.
Thomas, who has made documentaries and music videos for Queen, said: 'We could have easily done another six [episodes] this time because we could take him around the world, there's loads of aspects of his life we don't know about. It's not just about making the music, there are loads of other sides to him as well. We've not really explored the relationship he has with the rest of the group, Thotch'.
The character, essentially based on Peter Gabriel, first appeared in a series of 2009 online shorts recorded at Thomas' house. Day said they had also talked about performing live as Pern – 'maybe an interview with a couple of songs. But comic songs are the hardest thing to make funny and sound really good' – but says they would prefer to make more TV episodes.
Meanwhile, Thomas 'absolutely hates' reviews that liken the series to Spinal Tap, 'because the whole point of Brian Pern, the reason why he came about was because I used to go online and watch these incredible Peter Gabriel videos.
'Spinal Tap are a heavy metal group full of idiots. Gary Bloke played by Harry Enfield, Still Crazy [with Billy Connolly, Timothy Spall, Bill Nighy and Jimmy Nail], are very much about that kind of rock star.
'This is all about rock stars like Gabriel who've never taken drugs, are very intelligent, and who've never made a bad move career-wise. He's never sold out and made a bad disco album'.
After recruiting big Gabriel fan Day, Pern moved beyond their initial idea for 'a clips-based, archive thing'.
'We've both watched so many documentaries about Pink Floyd and the relationship between Brian and Pat Quid [Paul Whitehouse] is Roger Waters and Dave Gilmour really' says Thomas. 'Thotch are these super-intelligent, rich, emotionally detached people who all went to public school, who don't really know how to talk to women or confront their emotional issues with each other'.
Discussing other projects, Day said of his recent travelogue with fellow Fast Show alumni John Thomson, A Gaucho Adventure, that 'we may do another, [the BBC] said they liked it and we're coming up with ideas'. And that 'if it all goes well', he'll return as Colonel Dedshott in further adaptations of the Professor Branestawm books by Charlie Higson, debuting on Christmas Eve on BBC One with Harry Hill, David Mitchell, Ben Miller and Miranda Richardson.
However, it's unlikely that spoof phone-in Down The Line will ever return to Radio 4 following the death of Felix Dexter.
'With Felix passing away it'd be a bit weird' said Day. 'He was so important, doing all the ethnic characters and I think he'd be very hard to replace. Also, Charlie [Higson] is so busy and it takes a big chunk of time.'
Thomas, who plays the hapless host, adds: 'Down The Line takes so much longer than everyone thinks. I'm actually sitting there from 10 to 6 for three days recording live radio, waiting for that lot to ring in and I don't know what they're going to say. Then you spend a week on each episode editing, cutting, re-recording certain bits.'
Day laughs. 'Charlie will call up then pop off mid-sentence to get the door or do the ironing'.
– By Jay Richardson
Published: 5 Dec 2014
Recent News
What do you think?