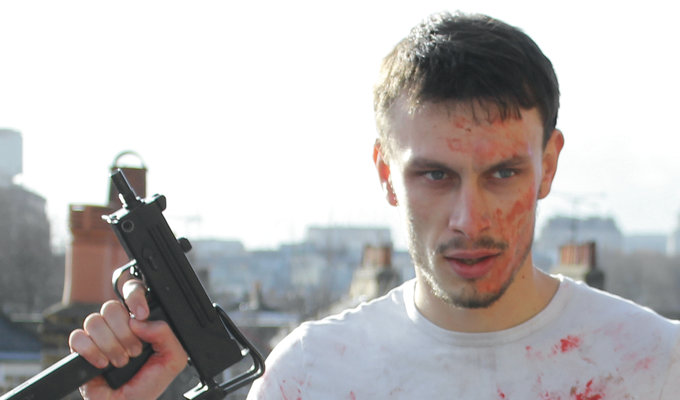 Richard Gadd working on C4 comedy
Stand-up Richard Gadd is developing a comedy for Channel 4.
Details of the project, being made with production company Brown Eyed Boy, are currently under wraps.
However, Chortle understands that it's been influenced by Gadd's trilogy of Edinburgh Fringe shows, which began with 2013's Cheese and Crack Whores, continued with this year's Breaking Gadd, and which will conclude with a final hour at next year's festival.
'Cheese and Crack Whores was about relationships, Breaking Gadd was about family and the third one will be about work, a chance to get out some of my professional demons' the comic explains.
He begins a 12-night run of Breaking Gadd at London's Soho Theatre tonight, and will shortly be seen in a series of online shorts for BBC Worldwide.
The films, entitled Raymond Monks after the central character, are part of a new batch made for the BBC by the Glasgow-based Comedy Unit, and will appear next year alongside new videos from Sanderson Jones and Larry Dean.
Produced by Chris Grady, Raymond Monks' three episodes aim to have the same 'psychologically warped, hallucinogenic quality' as Gadd's Fringe shows, with 'a bleak, relentless style with lots of close-ups focusing in on the eyes and the facial expressions. Quite awkward and sort of desperate' says the comic.
Gadd says the shorts, which also feature comics Jo Caulfield and James Kirk, follow 'a rolling ball set in motion that causes a cataclysm, a chain reaction of disasters'.
Monks is 'a working-class Scottish boy, always a bit more intellectual than his upbringing' who goes to Oxford University, 'lands himself in a very posh circle and gets carried away with the Bullingdon Club nature of it all'.
When a fancy dress prank is misinterpreted, the footage ends up on the internet and Gadd is expelled in disgrace and finds himself teaching mature students in a tough college in Glasgow. But his online infamy follows him and his students turn upon him.
'I've always catered my live shows to the idea of a televisual format, I have quite a dramatic narrative behind them' Gadd says. 'In a way, the idea was to always progress into an online format or televisual format. I love live shows but ever since I saw Black Books, or even Fawlty Towers, I've wanted to write for a sitcom character'.
'From a young age, I've been hyper-conscious of what a camera lens can do and how it can cause problems in later life. I'm of the generation of when YouTube was being created but was always really conscious of the repercussions down the line.
'If you are in the performing arts and you thrust yourself into the public eye, if your work comes to something, there's this worry that something from the past will catch up. When you're young you're innocent, you don't think of these things. But our lives are so documented these days'.
Of the other BBC Worldwide shorts, Jones's have him interacting with passers-by in Glasgow and Helensburgh, street-preaching nice sentiments from a soapbox and inviting shoppers to participate in a gameshow, Peek-a-Boom!
And former Scottish Comedian of the Year Dean has recorded a couple of stand-up stories, including the account of his first foursome and the experience of coming out to his parents as gay.
– by Jay Richardson
Published: 3 Dec 2014
What do you think?