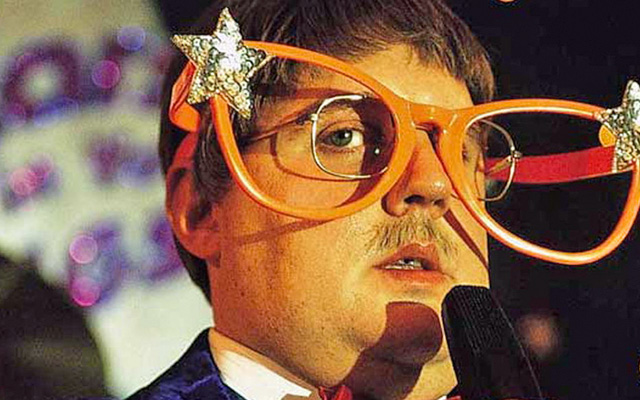 Phoenix Nights stage comeback confirmed
Peter Kay is reuniting the cast of Phoenix Nights for two shows at the Manchester Arena, it has been confirmed.
Paddy McGuinness, Dave Spikey and Neil FitzMaurice will be appearing in the new version, which will raise money for Comic Relief.
The comeback will take place on January 31 and February 1, with tickets going on sale this Sunday.
Kay said: 'Every couple of years I like to do something for Comic Relief. I think it's very important,' he said. 'I rang all the cast and they overwhelmed me with their generosity. If it sells it could make an absolute fortune for Comic Relief.'
'Everybody's doing it for free. Everybody's got involved and it's been so hard getting everyone together at the same time. And we've been working on it since February writing it and putting it all together.'
Stand-ups and cast members Toby Foster, Janice Connolly (aka Mrs Barbara Nice) and Justin Moorhouse are also taking part.
Speaking to Steve Wright on his Radio 2 show, Kay said he had long wanted to return to Phoenix Nights, but said: 'It's difficult because you're always working and I've had children and I've wanted to be around and be a dad and anything you do takes a year.
'When we did the two series of Phoenix Nights back-to-back it was two and a half years. We did Max and Paddy and ten I went off and did other things so it's taken time to get to the point where we're at today.'
He said the show would not tour, and that he had no plans to revive the TV series – which first hit Channel 4 screens 14 years ago and ran for just two seasons –  but did not close the door to the idea completely.
'I don't know about a series,' he said. I don't think so. I've not plans to. There are lots of things written but I think it's a case of doing one thing at a time. Little steps. Do this. It's been lovely getting together with everybody.'
The comedian is no stranger to Manchester Arena; he used to work there as a steward when it opened in 1995, and he has played a record 40 nights there.'
Tickets will be available here. They will go on sale at 11am on Sunday.
Here he is confirming the news on Steve Wright's Radio 2 show today:
Published: 27 Nov 2014
Recent News
What do you think?