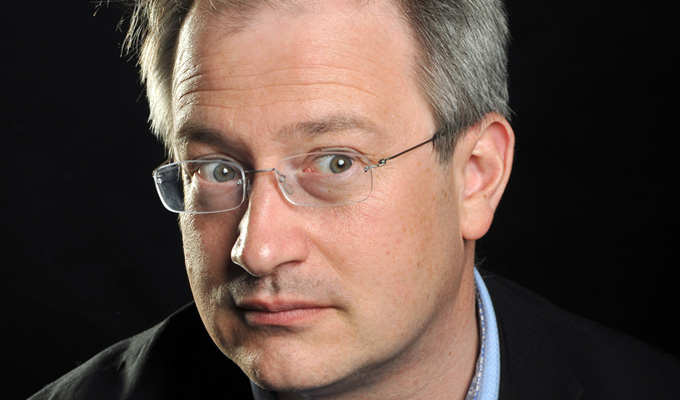 The truth behind the 'tears of a clown' cliche
Comedians tend to be emotionally disturbed people – but usually stop short of developing serious mental health issues.
That's the opinion of psychiatric nurse turned stand-up Jo Brand, who says: 'In a simplistic way, comedians are not all sad people, but I think they are all emotionally disturbed people.'
She was speaking on a documentary examining the 'tears of a clown' cliche that airs on Radio 4 tonight, taking as its starting point the suicides of Robin Williams, Kenneth Williams and Tony Hancock.
'The vast majority of comedians do have emotional issues,' Brand tells presenter Robin Ince. 'But they have them under control, they are not mental health issues.'
She said comics' lives were 'more extreme at the edges than most people's lives' – but added: 'In comedy, Spike Milligan was truly manic depressive, but I don't know many people who I think are.'
However she cautioned: 'I think there's a preponderance of comedians who were adopted, and an over-representation of comedians who have lost a parent when very young. Those sort of huge catastrophic incidents in your early life do not bode well for your future mental health.'
Ince admitted that he had some 'pyschobabble' on his own reasons for being a comedian. 'When I was three I was in a big car accident and my mum was in a coma for ages,' he said. 'I look back and think, "Is that why I seek the approbation of strangers at 45?"'
He is no the only comedian who spoke of such issues. Veteran comic Barry Cryer added: 'Dad died when five. Mum never talked about it, and it hurt.'
Jason Cook said: 'Dad was a big Billy Connolly fan and he often went away to sea. I thought if I could make him laugh like Billy Connolly, he wouldn't go away.'
But Josie Long, while admitting some family issues, said her comedy career had its roots in simply a 'natural, joyful propensity for showing off'.
Ince acknowledges the potency and dramatic irony of the image of the melancholic comedian, but also points to the many happy comedians who have continued performing into their 70s, 80s or 90s.
Cryer said the unique pressures of the job could exacerbate any underlying issues. 'It's brutal,' he said. 'The most naked part of the game. If two or three minutes in, you're not making them laugh, you've failed.'
Long added: 'It's very hard to put yourself out there for criticism. There are 200 people there; each of them has their own nuanced opinion of you, and it makes you sick.'
Gordon Claridge, who earlier this year helped produce one of the few academic papers on the psychology of comedians, found that stand-ups had high levels of psychotic traits with 'a paradoxical high score on both depressive and impulsive, non-conformist traits… that's equivalent to manic depression or bipolar.'
Professor Claridge, of Oxford University's department of experimental psychology, added: 'The thinking style associated with these psychotic traits and the disorders that connect to them is very much an an off-the-wall, out-of-the box way of thinking.
'If you think of manic thinking, it's all over the place to the extent where the thoughts often become, in patients, delusions. But the same type of divergent off-the-wall thinking is part of creativity. That's certainly the case with the way stand-up comedians perform. Except in psychotic patients, it's pathological.'
Brand concurred, saying the style of Eddie Izzard 'mimics what you see in bipolar patients', while other comedians 'do that depressive thing very well'.
Ince said the job of a comedian was a form of 'self-inflicted bipolar' – going from the extremes of being the centre of fun and attention on stage to being alone with your thoughts afterwards. 'I'm not saying it is bipolar,' he asserted. 'But it is putting yourself into a place that's not healthy.'
The programme also examined he use of laughter as a defence mechanism – which psychotherapist Philippa Perry said she discouraged in her patients. 'When someone tells me a tragic story and they make a joke of it, I usually give the intervention of "Try telling that without laughing" and so they have to get in touch with deeper feelings they might have been repressing,' she said.
'If you repress some of your feelings you repress all of them. If you don't allow yourself to feel sadness or anger, you won't be allowing yourself to feel deep joy as well. If you got into comedy because you are pushing away feelings that are too difficult, if you were to go into therapy and to allow yourself to have those feelings, you might be able to be even funnier.'
Fellow psychotherapist Josh Cohen explained that attitudes to laughter had changed over the years, with Sigmund Freud believing it a 'massive creative energy harnessed from the unconscious that allow us to say things that we're normally not licensed to say. Laughter confers an aura of safety on those unspeakable thoughts or feelings.'
But he said that as psychotherapy became increasingly institutionalised and austere, 'laughter starts to get a bad press' as a defensive function – which he considered a 'reductive' and 'unnuanced' approach, as well as feeding the sad clown myth of 'someone who uses laughter to defend himself against the pain he feels'.
He added that the myth may also endure because seeing a comedian on stage comfortable in their own skin 'induces an envy' that needed to be countered.
Simon Amstell admitted that being funny was a defence mechanism, but also helped him function in the world. 'If I say something really shameful in front of strangers and they laugh rather than abandoning me, I feel I'm OK in the world. I feel I'm part of humanity rather than a broken bit of it.'
Amstell was not the only interviewee to think comedy was more help than harm. Long acknowledged that performing had 'contributed to my anxiety levels' but considered: 'If I didn't have in in my life, I'd be sadder, but I'd probably be healthier.'
Ince concluded: 'Comedians may be outsiders and oddballs… and the solitary nature of what they do may occasionally create too much self-reflection leading to the burden of too much self-loathing.
'But to me it seems that the act of showing off is also the answer to these possible demons. Comedians are lucky to have a valve. To me, stand-up comedy may be the disease, but it's also the cure.'
• Robin Ince presents Tears Of A Clown on Radio 4 at 8pm tonight. The show will subsequently be available here
Published: 1 Nov 2014
What do you think?