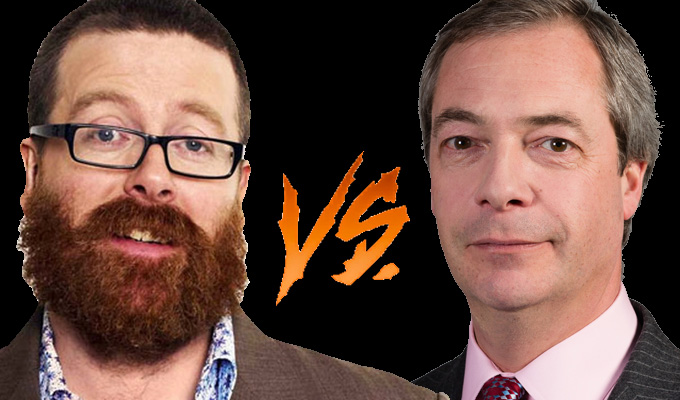 Now it's Boyle vs Farage
Frankie Boyle and Nigel Farage have traded insults on Twitter as the row over stand-up Andrew Lawrence's anti-immigration and anti-BBC rant snowballed.
The new row kicked off when Farage tweeted a link to an Lawrence's Facebook post slating the 'unmitigated disaster' of immigration and blasting female and 'ethnic' comics on panel shows.
The UKIP leader said: 'It's rare to find someone so honest in the media, particularly in comedy. This is very interesting.'
Boyle fired back: 'There are a lot of honest people in comedy, which is why they keep calling you a cunt.'
Farage responded: 'Probably the funniest thing I've ever heard you say.'
Boyle replied: 'You didn't hear me say it you daft bastard.'
Then Lawrence waded in, too, asking Boyle: 'Shame you couldn't be honest when you said you were retiring from stand-up - Jerry Sadowitz wants his act back mate.'
When Boyle accused Lawrence of misogyny, the English comic replied: 'What's "misogyny" mate? Shall we ask Rebecca Adlington?' – a reference to Boyle's jokes about the Olympic swimmer's that landed him in hot water.
Boyle said: 'Ask one of the female comics who got gigs you coveted on their own merits. Hitler wants his act back.'
Lawrence also said of Boyle: 'Takes you a while to be funny when you haven't got other people writing your jokes for youTell me how much did you used to pay those struggling acts that wrote all your jokes for Mock The Week?'
Until recently, Lawrence was represented by the same agent as Boyle, Hannah Chambers. Last week Lawrence slated another Chambers act, Jimmy Carr, over a joke he cracked referencing Oscar Pistorius , saying: 'Time people called Carr out for being what he is – not a subversive comedian, but a crap one.'
Meanwhile Dara O Briain also joined in to the latest online spat since Lawrence criticised the 'aging, balding, fat men, ethnic comedians and women-posing-as-comedians' on Mock The Week
He originally posted: 'Hey Andrew, sorry I'm so aging, bald and fat, but as an an immigrant I'll retain my disdain for anti-immigrant politics.'
And as the Twitter war ranged today, O Briain responded directly to Lawrence, saying: 'Ah Andrew, great to have you here. We were missing your bitter, self-delusional take on this.
'No-one cares if you have different politics but claiming we just pretend not to agree to get work? Stop kidding yourself. Still, I can understand you wouldn't like to have to now actually justify your ridiculous assertions. Easier to post and run... I'll send your best to the women and ethnics. You stay classy.'
After Lawrence claimed he was the victim of a 'witch hunt' over his contentious comments, O Briain said: 'A witch-hunt? Ha, what a fucking whiny little victim you are.'
Published: 28 Oct 2014
Recent News
What do you think?