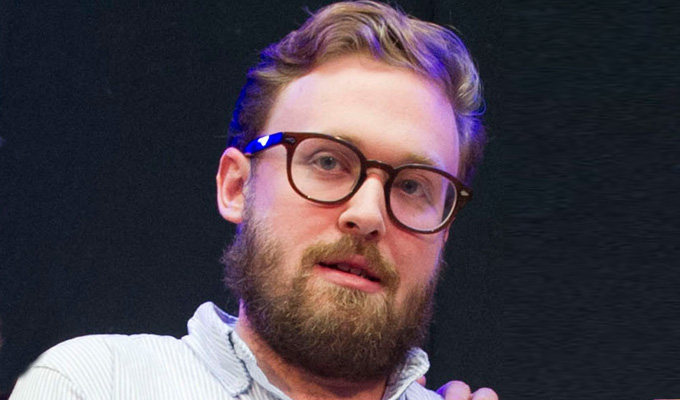 John Kearns wins Fosters award
John Kearns has won the Foster's Edinburgh Comedy Award.
Kearns – who won the newcomer award last year – said: 'I felt I did everything last year and this is crazy. Thank you for these awards, they have changed my life. I quit my job and am now a comedian.
'I wanted to come back and show I could do it again. I think it's a better show.'
'Also, I'm doing the Free Fringe, and this year some people have found it difficult. The Fringe has to change, something has to happen. Good comics who work hard... it's difficult and venues need to help those people. The Free Fringe helped me when no one would touch me. The comics are the most important people at this festival and they need to be looked after.'
'To the other nominees, you are fucking great.' And to laughs, he added: 'I'm not coming back to Edinburgh, I'm done.'
Awards producer Nica Burns said Kearns's win was 'an extraordinary achievement, the first time a best newcomer has made the leap to best comedy show in just one year. Utterly original, completely captivating and very, very funny.'
American comic Alex Edelman was named best newcomer.
Becoming emotional as he accepted his award, Edelman said: 'I didn't write a speech because I didn't think I was going to win. I moved over in May because every year a couple of sacrificial Americans come over and get eaten up by the festival. I didn't want to be one of them.'
'I feel there has been a huge error made as there are so many talented comic on this list.'
The panel prize went to twisted kids' show Funz And Gamez, led by stand-up Phil Ellis.
Chair of the judging panel Mark Monahan praised the 'benign but brilliant wrongness of it all' and said:'At the start of the Fringe they were not on anyone's radar at all, not least because they were listed in the children's section. It is full of mischief, it is full or originality. It is the sort of show you dream of uncovering at the Fringe.'
Elis said: 'Thank you for the support all the comedians have given this; it's word of mouth. It was quite a hard journey because no one wanted to touch it with a shitty stick. No producers liked the idea, but it's worked.'
The show also starred
Will Duggan
as Bonzo the Dog,
Mick Ferry
as Uncle Mick, James Meehan as Jim the Elf and Tom Short as Bonzo the Clown.
Frank Skinner handed over the accolades with last year's winner, Bridget Christie.
The best comedy show receives £10,000; while best newcomer and the Panel Prize winner get £5,000 each.
The full list of shows shortlisted for the main award is:
• Alex Horne: Monsieur Butterfly.
• James Acaster: Recognise.
• John Kearns – Shtick
•Liam Williams: Capitalism
• Romesh Ranganathan: Rom Wasn't Built In A Day.
• Sam Simmons: Death of a Sails-Man
• Sara Pascoe vs History.
And for best newcomer:
• Alex Edelman: Millennial
• Dane Baptiste: Citizen Dane
• Gein's Family Giftshop - Volume 1
• Lazy Susan: Extreme Humans
• Lucy Beaumont: We Can Twerk It Out
• Steen Raskopoulos: I'm Wearing Two Suits Because I Mean Business
This year's judging panel was: Mark Monahan from The Daily Telegraph, BBC radio comedy producer Sam Bryant; Alex Hardy from The Times; Lindsay Hughes: Head Of Talent for Baby Cow; Alice Jones from The Independent; Channel 4 commissioning editor Liz Lewin; Dave's Leicester Comedy Festival director Geoff Rowe and public competition winners Kathy Bell, Patrick Nicholls and Tim O'Connor
Published: 23 Aug 2014
What do you think?