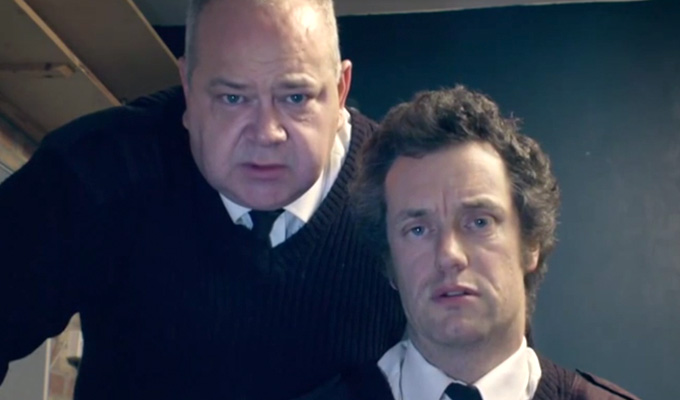 Unseen sitcom Insecurities released online
An unseen sitcom pilot starring stand-ups Paul Tonkinson and John Archer has been posted on YouTube.
In Insecurity, the pair play two night-shift guards, while the pun also refers to their personality deficiencies.
It was made by Steve Coogan and Henry Normal's production company Baby Cow – responsive for such shows as Gavin & Stacey, Alan Partridge and Moone Boy – but has never been picked up by a TV company.
The pilot also stars comics Tom Wrigglesworth, as a fellow security guard, Emma Fryer as a flight attendant who lives in flats they patrol, and Ben Crompton from Ideal as a dodgy character TK.
Archer posted the pilot episode on YouTube yesterday. He told Chortle: 'Baby Cow have pitched this show for several years now and have been unable to get a commission, despite the fact that Coogan and Normal are both huge fans of it.
'I think for some channels it is not edgy enough, but it was our choice to keep it gentle. For other channels the demographic of the show is wrong. We are not big names so it's a risk to throw us on screen untested, and we are possibly a bit too old or even too ugly? Maybe that hand-held camera, no audience laughter thing may now seem old hat. Finally I suppose it could also be that the commissioners just don't like it... that is possible.
'So our decision now is to throw it onto YouTube and see if we can at least get someone to watch our contribution to sitcom telly that never was. When you create something like this your number one wish is that it be seen.'
He added that he and Tonkinson,developed the idea while doing troop shows in Afghanistan. 'It is basically a development of both our characters into an environment where our own insecurities can blossom,' he added.
The show started as an eight-minute teaser, funded by Archer and Tonkinson. It was championed by Michael McIntyre, whom Tonkinson often writes with, who set up a meeting with Baby Cow. Lee Mack, Omid Djalili and Tim Vine have also give 'rave reviews', Archer said.
Here is the episode, in two parts:
Published: 17 Jul 2014
What do you think?