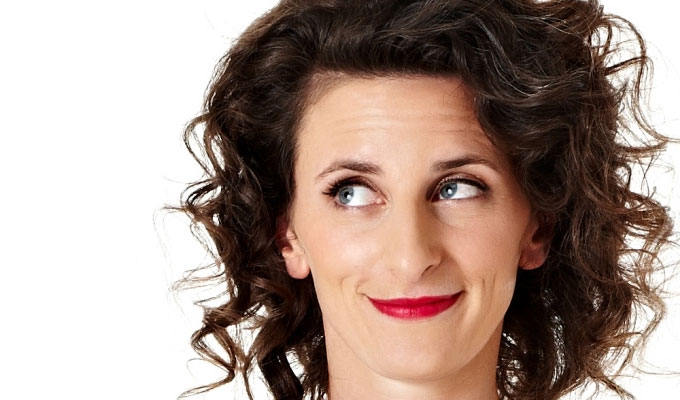 Mental health Ward
Comedian Felicity Ward is making a documentary about mental health.
The British-based Australian, who suffers from anxiety, shot stand-up sequences for the film at London's Soho Theatre on Monday.
Provisionally titled Felicity's Mental Mission, the documentary's loose premise is 'that you have to be crazy to do comedy', inspired by research published in the British Journal of Psychiatry which claimed that comedians tend to have personality types linked with psychosis.
However, the film's scope will broaden to examine the well-being of the general population when it airs on Australia's ABC2 channel in the week of Mental Health Day, October 10.
Ward explains: 'The doco starts out with comedians and this study and mental illness, then there's the a through line narrative of my anxiety, so we talk about that, depression and mental illness in the bigger, macroscopic sense within Australia'. Producers 'had obviously seen me talk about my anxiety, she adds, 'And I am all for talking about mental illness.'
The subject 'is just such a can of worms, every time we looked at one thing I was like "Oh no, there's a whole documentary we should be doing on this alone". Especially mental illness within kids. It's just crazy how little we invest in that and how economically viable it is and helpful it would be if we increased some of the funding'.
In January, Ward spoke about her anxiety disorder, fear of public spaces and receiving therapy as part of the BBC Radio Scotland documentary Feeling Kind of Funny, presented by comedian Julia Sutherland and also featuring John Lloyd, Janey Godley, Keara Murphy and others.
Ward told Sutherland how she developed panic attacks on stage at the Edinburgh Fringe: 'For the first 20 minutes of my show, I had a little voice in my head going "Get off, get off, the exit's over there! They hate it, they hate you! Get off!" And that was going constantly.
'I'd also developed this fear I was going to wet myself on stage. So I was backstage and I had this full-length mirror. And I knew that the audience were only a metre behind me, so I was hate-whispering into the mirror at my anxiety. I was whispering "You have to leave. You can come back in an hour but I can't have you".
'I was talking to the voices in my head essentially, talking to the anxiety because I didn't have any coping mechanisms. And I don't think I was being honest with other people about it because I thought they would say, "You're crazy, go to an asylum".'
- by Jay Richardson
Published: 11 Jul 2014
What do you think?