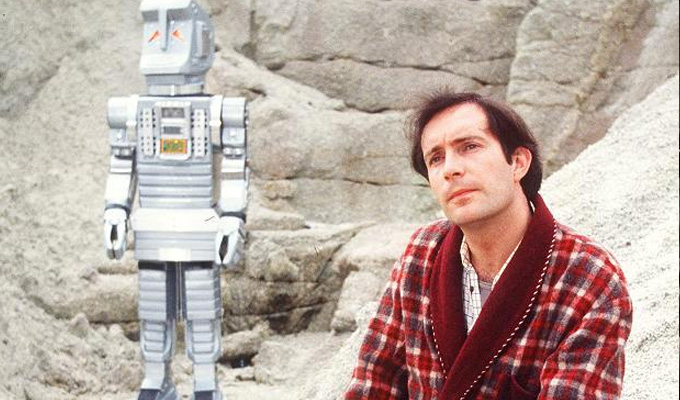 Lost Hitchhikers' Guide scenes discovered
Unseen work from Douglas Adams, including material cut from The Hitchhiker's Guide novels, are to be published in a new biography.
Writer Jem Roberts was given unprecedented access to boxes of papers Adams kept at St John's College, Cambridge, and unearthed a treasure trove of unseen writing.
Extracts will be published in The Frood: The True Story of Douglas Adams and the Hitchhikers Guide to the Galaxy, which is due out this September.
They include:
• 'Deleted scenes' from the first Hitchhiker's Guide novel, entitled The Dentrassi and Arthur's Reverie.
• An alternative original pitch for Hitchhiker.
• A lost rough script for the second series of the TV version.
• Extracts from a 'lost' draft of his abandoned book, Life The Universe and Everything, including Arthur Dent's Diary, Marvin Meets His Destiny, The Consultant, In The Beginning, and Inter-Species Sex.
• Assorted scraps of unused material, with names like Baggy The Runch and The Assumption of Saint Zalabad.
Writing on his blog, Roberts said: 'I've been able to work in whole chapters of a totally different draft of Life, The Universe and Everything previously believed destroyed, sections from the planned second TV series which never got beyond the rough script stage, and… well, too much to document here. We could only fit the cream of the discoveries into the book.'
He also told the Guardian: 'None of this stuff is finished. t's very important to contextualise this material properly…
'I understand people thinking that this is raw material and he didn't want it to be seen. I spend part of the book asking what Douglas would have wanted, but there are so many great Douglas Adams jokes which have been completely air-sealed for the last 20 years. [And] I think it's wonderful that we finally get to read some of this stuff.'
Publisher Preface says of the book, which is authorised by the Adams estate: 'It would be ridiculous to pretend that Douglas Adams' life and work has gone unexamined since his dismayingly early death at 49, but throughout the decade since the last book to tackle the subject, the universes Adams created have continued to develop, to beguile and expand minds, and will undoubtedly do so for generations to come.'
'The Frood tells the story of Adams's explosive but agonisingly constructed fictional universe, from his initial inspirations to the posthumous sequel(s) and adaptations, bringing together a thousand tales of life as part of the British comedy movements of the late 70s and 80s along the way.
'With the benefit of hindsight and much time passed, friends and colleagues have been interviewed for a fresh take on the man and his works.'
• The book is published on September 25. Click here to pre-order from Foyles for £15.20
Published: 30 May 2014
Recent News
What do you think?