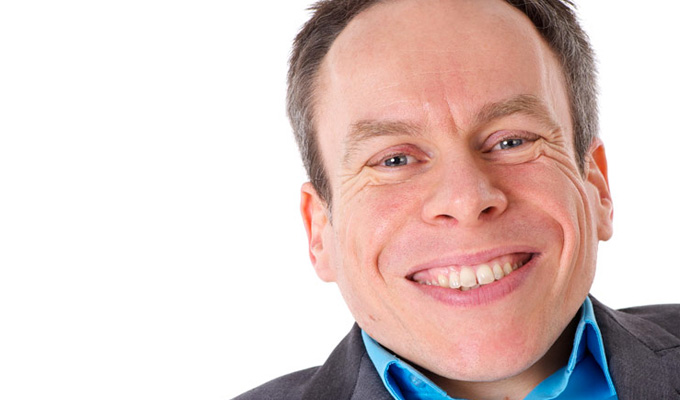 Comics: Stop saying 'midget'
Warwick Davis has called on comedians to stop using the word 'midget'.
The Life's Too Short star has criticised stand-ups who use the offensive term 'in pursuit of a cheap laugh', arguing that they are 'popularising the word and inadvertently giving the go-ahead to easily influenced young people who then think it's OK to use when they see someone with dwarfism'.
Davis, who is a patron of Little People UK, a charity for people with dwarfism, added that: 'Many little people have suffered bullying and ridicule in their lives which causes them to lose confidence and they can become isolated, and it is for these individuals that I am speaking out about this important issue.'
Comedians with dwarfism have endorsed his remarks. Kiruna Stamell, a stand-up and actor who appeared alongside Davis in Life's Too Short says 'midget' is 'dehumanising' and a 'hate' word. TanyaLee Davis argues that 'it's not just the UK circuit, little people being the butt of jokes is a global trend'.
The Canadian stand-up added: 'Free speech is the one thing that comedians have, you can talk about anything. But it has to be funny. Some of the jokes I've heard with regard to 'midget' are just so bad, it's not worth it. We're like ginger people, easy to make fun of and socially acceptable to go after.'
The term 'midget' is derived from 'midge', meaning a sand fly. It was popularised by circus impresario PT Barnum as a classification for little people performing in his Victorian freak shows and has no medical basis.
Rebecca Nuttall of Little People UK likens use of the 'abusive term' to 'a racial insult' for which the perpetrator 'could be prosecuted for hate crime'. She adds that in North America, it is now referred to as 'the M word' and its wider use is deemed to be unacceptable'.
High profile comedians who have used 'midget' in their stand-up include Frankie Boyle, Dylan Moran, Jim Jefferies and Life's Too Short creator Ricky Gervais. The latter characterised the UK's superior artillery in the Falklands conflict 'as the war equivalent of holding a midget at arm's length' in his 2008 HBO special, as well as using the term on The Ricky Gervais Show.
However, Gervais previously mocked ignorance of dwarfism in The Office, with Gareth infamously asking about their relation to elves.
Last year Little People UK complained to Avalon, producers of Russell Howard's Good News when the host referred to 'hitting a midget with a basketball' and 'slam dunking a midget' in an improvised segment – for which the company subsequently apologised.
'"Midget"is a shortcut to "funny, weird and freakish",' argues Stamell, who was born with a rare form of dwarfism called acromeseomerlic dysplasia.
'Most people go through life not experiencing regular abusive comments from strangers, so it is not only hard for them to understand but also, as someone directly affected by the comments and proliferation of the use of the word "midget", knowing how much it hurts. Being a person with dwarfism and saying, "this is how we'd like you to talk about our bodies and respect us by not turning us into objects" should be enough.' 
She believes that it's 'lazy' comedians and those 'who tend to use hate language generally', as well as new comics with less life experience who tend to be culprits, because 'they don't really know how "othering" language affects people'.
Tanyalee Davis acknowledges that 'midget' is 'a funnier comic word' than 'little person' and uses both in her act. But she does so while stating that 'it's a derogatory term, considered offensive by little people. It's all about context.'
She feels describing 'midget' as a hate crime is 'over the top … the only people who say "the M-word" are little people'. But she recalls 'walking down the street and people are yelling from their cars, I've had people throw things at me, they're doing that because of the way I look. Which is totally fucked up, obviously.'
Both TanyaLee Davis and Stamell have confronted other comedians about using 'midget' and can point to some who've since modified their language. But 'in general comedians don't care' says the former. 'Certain acts don't give a shit really, they like being offensive. If I asked them not to use it, they're still going to use it.'
The Little People of America was originally founded as The Midgets of America in 1957 before changing its name. And several prominent US comics have explored the equation of the M-word to the N-word, including Doug Stanhope, John Mulaney and Dave Attell, who has joked that 'it's not politically correct to use the term "midget" anymore, let me rephrase that – floor niggers'.
Stamell's husband, fellow comic Gareth Berliner, wrote a Chortle correspondents piece on 'midget' last year, asking comedians to think about 'the mis-education and misinformation of the dickheads and insecure bullies that my wife and I have to deal with when we're out in public'.
Stand-up Carey Marx, who used 'midget' in his 2006 show White Night, argues that language is an imperfect vehicle for meaning, especially as attitudes and terms change. But also that honest responses are often unpalatable. And he asserts that 'no-one is above mockery, not even giants'.
Contesting Warwick Davis' suggestion of a comedian actively pursuing 'a cheap laugh', he said: 'Every time I've had a cheap laugh I was actually in pursuit of a better laugh. Mostly, I was in pursuit of being a genius but had to settle for a cheap laugh. Sometimes I recognise a piece as a cheap laugh and I question it, drop it or strengthen it' . He explains that his one and only use of 'midget' as about the reaction it had when he said it on stage.
'It would be impossible for me to tell this story using any other word unless I were to lie about what happened and make it nonsensical. I told the story in a show about offensive humour, though I will hold my hand up for using that story once in a while out of context. If we do need to educate people that "midget" is offensive, my bit should be considered welcome and helpful.
'I'm writing a piece for my new show about the term "Little People". Perhaps, I'll be accused of getting cheap laughs out of the term "Little People". They're going to have to keep changing it to keep up with me. The campaign to spread these terms will need to be successful because I have been asking audience what term people with dwarfism wish to be known by, and the vast majority don't know. If I just use the term "Little People" on stage, most of the audience haven't a clue whom I'm referring to.'
Tanyalee Davis relishes following a comic on stage who's used 'midget' or has been derogatory about little people 'because it makes me shine like the north star. And if the audience have seen me walking around beforehand and it's a bad joke, their joke will die on its ass, no matter who's telling it'.
Still, while she believes that she's 'bringing something new to the table' and fresh 'insight' to 'a male-dominated business full of generic white guys", after a 24-year career she reckons that she's been 'screwed' by commissioning editors for stand-up showcases on television who think: 'Oh, she's not going to be able to handle it' and 'Oh, it's just too much midget stuff!"'
Meanwhile, the circus origins of 'midget' remain alive and well in broadcast comedy. Last year in the BBC children's show Dick and Dom's Hoopla!, an actor with dwarfism dressed as a monstrous clown jumped out of a garbage bin to attack a child contestant. The clown was then tasered by the circus ringmaster.
-by Jay Richardson
Published: 2 May 2014
What do you think?