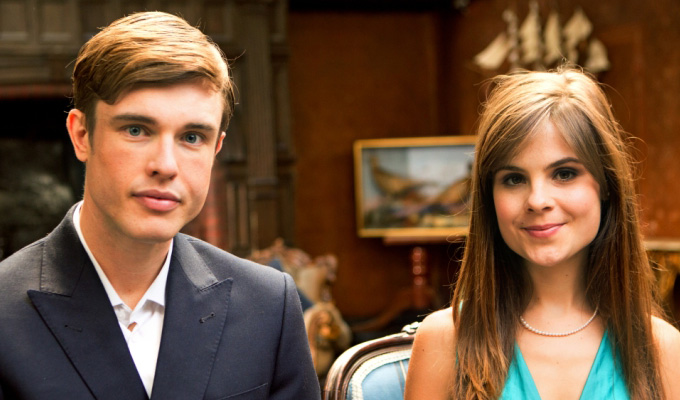 Brit comics could become American comedy royalty
Ed Gamble and Amy Hoggart could be set for American stardom after landing lead roles in a new US comedy series, Chortle can reveal.
Almost Royal is the first original comedy series to be commissioned by BBC America and revolves around privileged young siblings, Georgie and Poppy Carlton, who are distantly related to the Royal Family.
The premise of the seven-part series is that they have allowed a camera crew follow them on an unofficial tour of America, even though they are out-of-touch with reality and unable to do anything for themselves.
BBC America says: 'The road trip will provide the sheltered siblings with an opportunity to spread their wings and see the world. Georgie and Poppy have never worked a day in their lives, driven themselves anywhere or solved any problem more complex than telling their butler to tell their cook what they want for lunch.'
Gamble's character Georgie is described as 'the most affable man one could meet' who is using the trip to mature as he takes on the responsibilities of Caunty Manor, Norfolk, which he has just inherited from his father.
Poppy, meanwhile, is hoping to raise her profile as she seeks to become famous as a pop star/actor/author/lifestyle guru/cookery presenter.
It is the first TV acting role for former Chortle Student Comedy Award finalist Gamble, aside from a small part as a weatherman in Greg Davies's sitcom Man Down. He is best know for the Peacock and Gamble podcast with Ray Peacock.
Hoggart, the daughter of the late Parliamentary sketch-writer Simon, is best known on the circuit for her character Pattie Brewster. She, too, has had little TV exposure, but was most recently seen in Dave's storytelling show Crackanory.
Almost Royal premieres in the States on Saturday, June 21 at 10pm Eastern Time. It is produced by Burning Bright Productions and distributed by BBC Worldwide. It is directed by Chris Faith, who perviously worked on Katy Brand's Big Ass Show, and Marcus Liversedge (The Only Way is Essex). Clive Tulloh is executive producer and Seamus Murphy-Mitchell is series producer.
The show has been written by Jason Hazeley and Joel Morris – whose credits include A Touch Of Cloth, Charlie Brooker's Wipe programmes, and The Armstrong & Miller show – and Samantha Martin, creator of the Kevin Bishop Show.
BBC America, which is is available via cable in 80 million US homes, has previously aired such British comedies as Absolutely Fabulous, Twenty Twelve, The Inbetweeners, The Thick of It and The Office.
Published: 25 Mar 2014
What do you think?