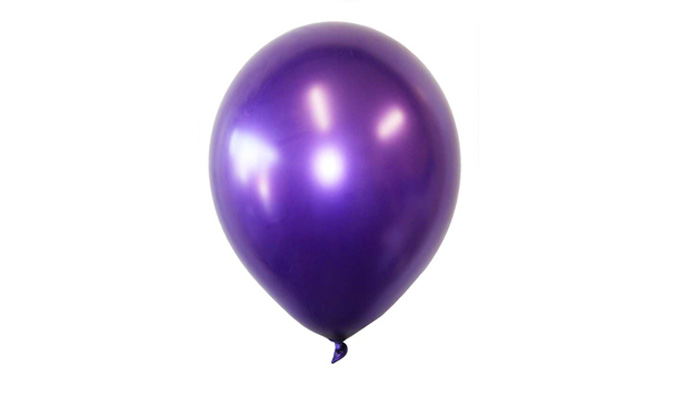 'Go crazy but try to cover your genitals'
•'Stand-up is psychologically all-consuming. When you have a gig that night you can't really think about anything else,' David Baddiel.
• Comedian Charlie Baker has a role in Harry Hill's X Factor musical I Can't Sing, playing 'Hunchback'.
• This week's episode of Inside No. 9, Last Gasp, concerned the memorabilia value of a pop star's dying breath, caught in a purple balloon. Well now co-creator, and star, Steve Pemberton has put his own exhalations into a similar receptacle – which he has put on sale on eBay. Bidding for the balloon, whose condition is defined as 'possibly a bit deflated' stands at £67 at the time of writing, which will go to Sport Relief.:

• The scene in Alan Partridge: Alpha Papa in which Steve Coogan's character lip-synchs to Roachford's Cuddly Toy has won the curiously specific award for Best Sync / Use of Existing Music: Feature Film Soundtrack and the Music+Sound Awards.

• Andrew Lawrence says his most embarrassing moment came backstage at Michael McIntyre's Comedy Roadshow. 'I pissed in my trousers with nerves,' he says.
•
Anything the WI can do, comedy can do better… Stand-up Matt Reed is starting to collect a series of naked or provocative pictures of comedians for a twitter feed which, he hope, could turn into a allegedly erotic Christmas calendar. He's now urging more comics to join the likes of Daniel Sloss, left, in contributing to the mmmcomedyerotic twitter feed. 'Go crazy but try your best to cover your genitals,' he says.
• Maybe Basil Fawlty was wrong. One German fan who saw Eddie Izzard perform in German in Berlin, gave the verdict: 'He should have mentioned the war a bit more.'
• Bill Hicks' nephew, Ryan, has become a comedian in San Diego. Speaking at the tribute to mark the 20th anniversary of the comic icon's death, Bill's brother Steve said: 'Apparently he's doing very well, but he fights with the idea of Bill's name - he doesn't want to capitalise on it.'
• Rashida Jones's parents – music producer Quincy Jones and former Mod Squad member Peggy Lipton – are to play her fictional parents in her new US comedy Tribeca, which has been co-written by Steve Carell.
• Chelsea players Petr Cech, Eden Hazard, Fernando Torres, John Terry and Frank Lampard have been turned into Simpsons characters following a marketing tie-up. But surely they missed a trick with David Luiz, whose resemblance to one of the show's stalwarts has long been noted…

• The controversy over rape jokes has been made into a storyline for crime series Law And Order: Special Victims Unit. The episode that aired on NBC on Wednesday revolved around a comedian who – like Daniel Tosh – uses rape as a punchline. But in the fiction, things get more serious when a student is sexually assaulted by two of the comic's fans. He's the show's depiction of a comedy club:

• Meanwhile, in a real US comedy club: 'Nigga please, this ain't soul plane!'
• Tweets of the week
GlennyRodge(@GlennyRodge): Best day of my life was when I got a Nobel prize for inventing autocorrect. I had a lovely phone call from the president, Backache Banana.
Nick Motown (@): Only recently found out that 50 Cent wasn't one half of Dollar. Embarrassing.
Ian Power (@IHPower): Did Gary Oldman used to be Gary Numan?
Published: 28 Feb 2014
Recent News
What do you think?