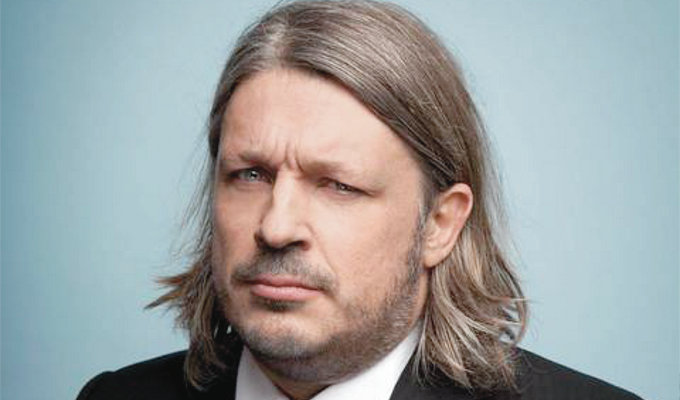 Herring releases his free stand-up show
Richard Herring has posted the first episode of his online stand-up show Meaning Of Life on YouTube and Vimeo.
The 41-minute episode is the first of six made under a DIY model, which he hopes will 'stand up against TV comedy shows, at a fraction of the budget'.
Herring hopes to cover much of the production cost by selling tickets to the recordings at the Leicester Square Theatre. Also, fans can buy an extended 80-minute video of the show priced £15 for all six, from producers Go Faster Stripe.
Two further episodes – all of which also feature an interview and sketches – are already in the can.
Herring said: 'We learned a lot in this first episode so some of it looks a bit messy. But we invested in an autocue and tidied things up a bit for the others and I am pleased with the way this one has worked out on the whole.
'Our limited budget and time mean it isn't going to be quite as slick as a TV show, but hopefully the content makes up for that and we've got some great animation by Chay Hawes.'
The show is also available as an audio podcast, again with an option to buy extended versions for £6 for the full season.
Meanwhile, another online comedy project has been hailed a 'massive success'.
Domino's Pizza has said the football-themed sitcom it financed last year, The Support Group, had a 'positive impact' with customers who watched it 15 times more likely to go and purchase Domino's products than they were before.
The first five-minute episode was seen by 210,000 people - though this fell to 34,000 by episode 11.
Nick Dutch, head of digital marketing at Domino's, says:  "The Support Group really opened our eyes to the potential of creating original content and the positive impact it can have on purchasing behaviour of customers
'That said, it also highlighted some of the difficulties around content distribution and building scale fast.'
Josie Long recently put the full version of her stand-up show Romance And Adventure online for free, too.
Here is Herring's show:
And here is Long's
Published: 27 Feb 2014
What do you think?