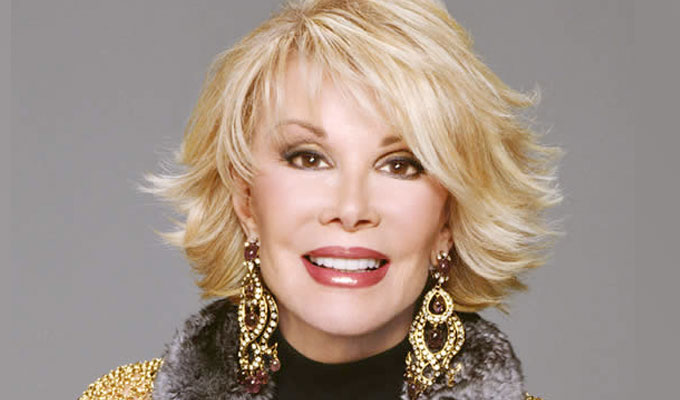 Ugly scenes...
Joan Rivers is facing a backlash after cracking a typically acidic gag aimed at Kim Kardashian and Kanye West's baby North.
In her stand-up set, the 80-year-old comedian joked: 'That baby is ugly... I've never seen a six-month-old so desperately in need of a waxing.'
Although the audience at the Los Angeles show, roared with laughter, the media have been quick to pass judgement. The Daily Mail said Rivers had 'sunk to a new low' by 'criticising a defenceless baby'.
Kardashian has, in fact, previously been accused of waxing her baby's eyebrows after sharing a photo of the youngster. The online criticism prompted the reality star to tweet, jokingly: 'Do people really think I would wax my daughters eyebrows so young? Come on, I'd wait until she's at least 2 1/2!'
Kanye has said he would do anything to protect his child, and said: 'This is my baby. This isn't America's baby.'
However the parents have not entirely been able to resist showing off North, now seven months old to the world, including posting photographs on Instagram.
Last week, Kardashian shared some 'some sweet family pics' of North West on Ellen Degeneres's TV show, while they have previously used their daughter to promote luxury brands such as Hermes and Stella McCartney, tweeting their thanks after the companies sent them expensive baby clothing for free.
And American TV network E! has cited possible sightings of North as one reason viewers should tune in to the return of Keeping Up With The Kardashians on their channel this weekend.
The storm over Rivers's joke echoes the tabloid outrage over Frankie Boyle's joke about Katie Price's son Harvey on Channel 4.
Last year Adam Hills slammed Rivers for joking about Adele's weight, telling viewers of The Last Leg: 'If you make fat jokes about Adele, you're being a dick, and I'm referring to you, Joan Rivers… How dare you make fun of one of the best female role models on the planet for the way she looks?'
Published: 21 Jan 2014
What do you think?