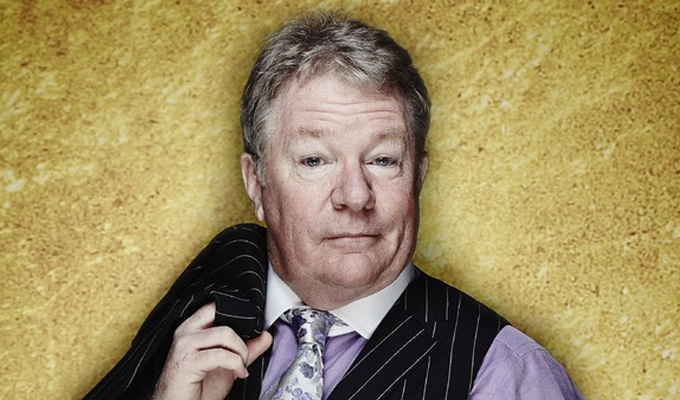 'I was never racist' says Jim Davidson
Jim Davidson has defended his old stand-up routines as 'cartoon racism' and said: 'Because I grew up in South East London I was never racist.
In a contentious podcast, the 59-year-old comic, who is currently in the Celebrity Big Brother House, said 'racism didn't quite exist' when he was younger.
He said: 'It was cartoon racism, with your uncles and aunties who would say, "Here, I went down there the other day – full of fucking nig-nogs. You been to Woolwich? It gets dark at half past two in the afternoon.
'It was that type of thing and those people would probably be the first people to help a black woman across the street.'
Davidson used the same 'cartoon racism' phrase to describe his own comedy, suggesting he was affectionately mocking black people: 'It was the type of stuff you'd do in front of a load of black people,' he said. 'You know like with gay people sometimes they like to be called puffs and sometimes they don't... it's all in the Protected Species Act nowadays.
'I thought that the West Indian accent – especially Chalky White – was a vehicle to help us all really I don't want to sound like a vicar and I'm certainly not apologising, but it was picking on one stupid, black West Indian accent and always making this guy loveable.'
Davidson added: 'Because I grew up in South East London I was never racist.'
'Because I'm a white bloke I like Electric Light Orchestra, I didn't like reggae particularly much… No I was never racist. I can't stand unfairness. I don't like any of that.'
However his geographical defence doesn't quite hold water, as in the early 1990s Eltham in South East London was dubbed 'the racist murder capital of Britain' after a series of deaths, including Stephen Lawrence's. Davidson grew up in Charlton, about three miles away.
Ironically in the same podcast, Davidson said he often took issue with Bernand Manning, claiming Manning 'didn't get' racism and 'didn't understand that [his material] might cause offence'.
But Matthew Collins, of anti-racism group Hope Not Hate, said of Davidson's comments: 'No racism is ever acceptable. At the end of the day, Jim Davidson is just not funny any more.'
Later in the podcast, released on his own website and co-hosted with Richard Digance, Davidson said: 'I like to bring out that alter-ego that's in all of us. They say, "he says what we're all thinking".'
'I think I just gather what I think the audience will agree with me about, and what they will laugh at, then push them that little bit further,' he added. 'I get a lot of appreciative nods.'
He then gave an example of his thought process:
'Today I watched the This Morning programme and there was a rather large woman on their and she was going on moaning about women's rights, about all these… pop videos, how they're sexist because they're showing their bodies in a sexy way and they're used as sex items and I thought, "Well you've got no fucking danger of that, have you?" and I wanted to tell her.
'Why is it all these anti-sexual women are all women you wouldn't want to fuck in the first place?,' Davidson added. 'That is the type of thing I say on stage, and it is to get a laugh, it's not to upset that fat bird.
When Digance suggest he's getting a laugh at her expense, Davidson answers: 'Am I? Fuck her!'
But he said he wouldn't do that material if 'there's a big fat woman taking up three seats in the front row'.
Meanwhile, in the Big Brother house last night, Davidson told how he turned to God to beat his 'demons' of cocaine and booze.
He said: 'My life has always been in excess, I've always drunk to what my job allowed me to do and eventually I found myself falling foul of the old Colombian marching powder; I didn't know what to do.'
Davidson added that his ex-wife helped him by taking him 'somewhere [where] I met up with a guy…it was me, a guy and a few other people and a Bible. Even though I still drink a lot, I drink in a different way now. And I thank God every day; I don't go near any of the strong drugs.
'With the help of love from people and God I've overcome those demons.'
Published: 6 Jan 2014
Recent News
What do you think?