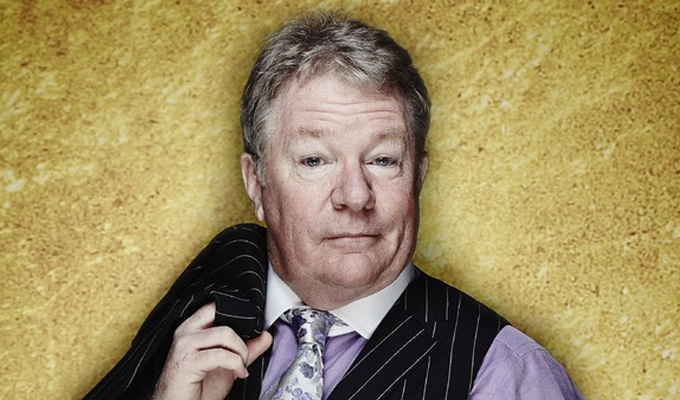 Jim Davidson enters Big Brother house
Jim Davidson has entered the Celebrity Big Brother house, handcuffed to singer Linda Nolan.
Those taking part in this year's reality show – which also includes boxer Evander Holyfield, dancer Lionel Blair and boy band star Lee Ryan – were all chained up in pairs for the opening episode last night.
Davidson was first into the house, and introduced to the Channel 5 audience with the song Notorious.
As he admitted on camera, he as due to appear in last year's show but was arrested by Operation Yewtree officers probing historic sex abuse claims – although all investigations have now been dropped without charge.
He and Linda were given the first secret task of the series: to choose to release one of the other pairs from their shackles – or themselves. They elected to free N-Dubz rapper Dappy from Mail columnist Liz Jones because they 'both look a bit stressed' – but unknown to all involved that meant that pair will be up for eviction first.
Before the show, Davidson said: 'I'm thrilled to be taking part in this year's Celebrity Big Brother. It didn't quite happen last time around, but I'm excited to now be involved.
'It's going to be a tough few weeks for sure, but I'm fully prepared for the challenge and intrigued to find out who I'll be sharing the experience with – I'm sure they will be too!'
Others in the show include alumni of other reality shows: Sam Faiers from TOWIE, Luisa Zissman from the Apprentice and Ollie Locke from Made In Chelsea.
In an interview with the Daily Star – sister company to Channel 5 – Davidson said: 'My main worry is that I've always been an entertainer, and you can be a celebrity now without having a proper job.
'That's why I'm looking forward to meeting these celebrities who don't have my job. I'd hate to be dumped in there with Jimmy Tarbuck-types, because we'd bore each other to death, so this is exciting for me.'
But the 60-year-old predicted: 'We all act politely for a while until we start to get on one another's tits.'
Others in the house are Jasmine Waltz, an American actress 'famous' for being linked to the break-up of Courteney Cox and David Arquette last year, and Casey Batchelor, a large-breasted glamour model named Miss Maxim in 2006.
Published: 4 Jan 2014
What do you think?