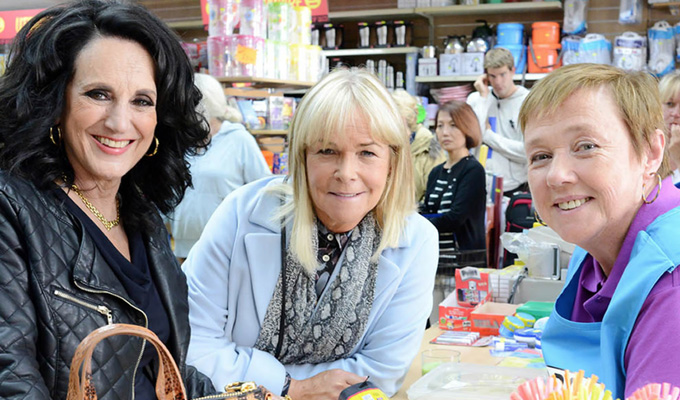 You can't say 'Scouser'... it's racist
ITV banned jokes about Scousers and drunken Australians from the revival of Birds Of A Feather, the sitcom's writer has claimed.
Laurence Marks says he had a 'huge row' with executives, who told him that it was 'unacceptable' stereotyping to suggest someone from Australia might be a drunk.
And he claimed 'priceless' guidelines from regulator Ofcom banned the word 'Scouser' saying: 'It's racist, apparent.'
His comments came in a 1,600-word rant in the Daily Mail complaining about the swearing at the British Comedy Awards, which he compared to a 'boozy and aggressive barrack room'. 'There is simply no need for them to reduce their behaviour to the standards of cavemen,' he said of the comedians 'spraying obscene words around as if they were aerosol.'
The 65-year-old – who co-wrote Birds Of A Feather with Maurice Gran – said accused broadcasters of double standards in allowing so many expletives during the awards, but not mild national stereotypes in their script.
He wrote: 'There was a huge row when we described someone as Australian: unbelievably, ITV insisted it must not have any negative connotations. If you say someone is "Australian" and drunk, that's racial stereotyping - and unacceptable.
'So this is British television in 2013: you can say *f*** as much as you like at a comedy awards show, but you can't call anyone an Australian. I find that odd, whether before or after the watershed.'
Despite what Marks may have been led to believe, the broadcasting code upheld by the watchdog contains no rules banning the word 'Scouser' or the use of stereotypes.
But last year it issued guidance stating: 'Racist terms and material should be avoided unless their inclusion can be justified by the editorial of the programme. Broadcasters should… avoid stereotyping unless editorially justified.'
However the watchdog has previously rejected complaints about stereotypes in jokes, such as comments made by Top Gear's presenters about Mexicans.
The revival of Birds Of A Feather starts in the new year, with original stars, Linda Robson, Pauline Quirke and Lesley Joseph.
ITV said it had no comments on Marks's claims.
Published: 17 Dec 2013
What do you think?