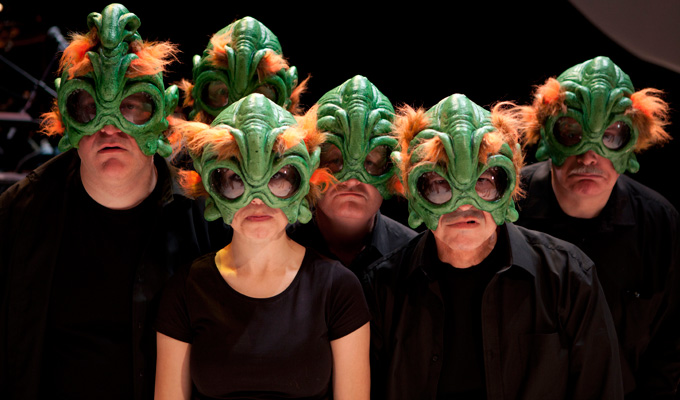 Hitchhikers Guide tour cancelled
The live tour of Hitchhiker's Guide to the Galaxy has been axed amid poor ticket sales.
Producers have pulled the plug with immediate effect – even tonight's planned show at The Hawth, Crawley, will not take place.
It featured the original cast of Douglas Adams's Radio 4 series with Simon Jones as Arthur Dent, Geoff McGivern as Ford Prefect and Susan Sheridan as Trillian. But musical stand-up Mitch Benn replaced Mark Wing-Davey as Zaphod Beeblebrox .
The production also signed up a number of comedy names to provide the voice of the book. Among them were Jon Culshaw, Phill Jupitus, Clive Anderson, Graeme Garden and Barry Cryer.
A statement has been placed on the show's website announcing the news.
It said: 'The Radio Theatre Company deeply regret to announce the immediate cancellation of The Hitchhiker's Guide To The Galaxy Radio Show 2013 Tour... Ticket holders are being contacted and should contact venues for refunds.
'Although a well-loved show, Hitchhiker's Live has been subject to the same extreme economic pressures as many productions touring the UK this autumn. Ticket sales across the board have been lower than average and we have not escaped this trend.
'A difficult financial environment for such a large and technical show means that covering operating costs has become impossible. As a result in the last 24 hours we have had no option but make the extremely hard and painful decision to stop the tour.
'We sincerely apologise for any inconvenience this may cause and share the extreme disappointment and frustration felt by many who were looking forward to seeing the show. we sincerely hope that it can be brought back in the future.'
And Benn tweeted: 'Massive apologies to anyone who had tix for #hitchhikerslive; it's no consolation, I know, but you're not as gutted as we are.'
Click here for Chortle's review of the show. Our current competition to win tickets to see the show has obviously been cancelled following today's news.
Published: 21 Oct 2013
What do you think?