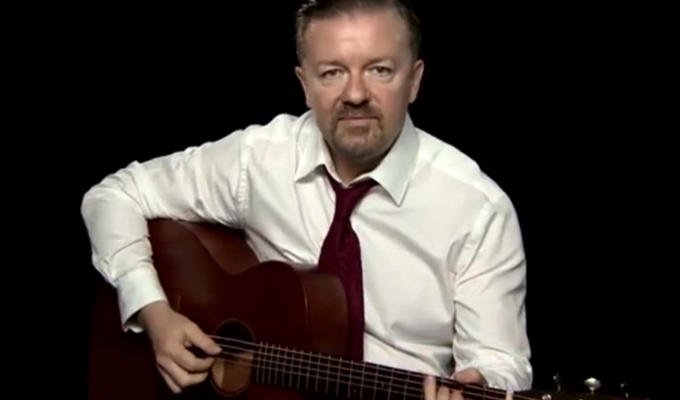 Sold out in seconds
Tickets for David Brent's first music shows have sold out in less than a minute – and now touts are asking for up to £1,000 a seat.
Ricky Gervais said sorry to disappointed fans after his two warm-up dates at London's Bloomsbury Theatre this month sold out in seconds. The venue has a capacity of 535.
He wrote on Twitter: 'OK, so apparently, the Brent tickets sold out in under a minute. How is that even possible? Sorry.
'Luckily, I held back a few pairs of tickets for various competitions for fans. There's still hope :)'
Gervais's Office character will be playing with the band Foregone Conclusion on October 14 and 23 ahead of a possible national tour.
The cheapest tickets for the October 14 gig on the second-hand site Viagogo are on sale for £495 – with the most expensive at £1,000. However, the gigs were sold as e-tickets which require ID for entry, so it is unclear how they can be resold.
Gervais tweeted of the mark-ups: 'Fucking disgusting. Please no one buy them.'
A Viagogo spokesman said: 'Ticket prices are set by the seller, not by Viagogo. There will always be a few special events, like David Brent & Foregone Conclusion, where supply is short and prices rise but those listing tickets at extortionate levels are unlikely to sell them. The most important thing is to make sure every ticket is guaranteed, which is why people use Viagogo.'
The gigs promise songs including Free Love Freeway, Spaceman Came Down, Slough, Life on The Road and Ain't No Trouble. They follow the success of the nine videos in his Learn Guitar with David Brent series, which have received more than 21million views on YouTube.
Published: 1 Oct 2013
What do you think?