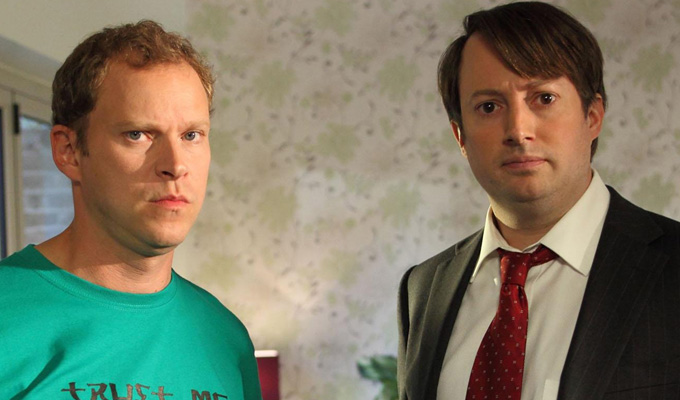 Official: Peep Show is to end
Peep Show is definitely coming to an end, Channel 4's head of comedy has confirmed.
Phil Clarke said he's now talking to creators Sam Bain and Jesse Armstrong about how best to wind up the series, which has been running for a decade.
A ninth series has been commissioned for next year, and star Robert Webb has already hinted that the show was 'winding down'.
And in a major interview with Chortle today, Clarke said the series is going to end 'for sure' adding that: We're talking about Peep Show, how that's going to be rounded off. The discussion is about how it's going to conclude.'
Clarke was head of comedy at Peep Show producers Objective until earlier this year, when he took the Channel 4 job.
Bain and Armstrong have gone on to create Fresh Meat, which has proved another big success for the channel.
Earlier this year, Webb said that a recent meeting with one of the writers led him to believe that the next series could be the last.
'I wouldn't expect them to go through a billboard on the edge of a cliff in a double-decker bus and explode - we're never going to shoot it in the head quite like that - but it might be time to plan for what happens afterwards,' he said.
'I've been sort of coasting on Peep Show. So now it's kind of, "When I grow up, I'm going to have to be an actor if I'm not careful."'
He and co-star David Mitchell have recently filmed a new BBC Two comedy called Our Men, in which they play two British diplomats in Eastern Europe.
Meanwhile, Clarke says Channel 4 has another project in the pipeline with Graham Linehan, after the IT Crowd bows out this Friday.
'We're doing another thing with Graham,' Clarke reveals, although refusing to be drawn on details. 'He's got something else in that he's working with us on. So hopefully you'll see that next year, or if not it'll be in pilot. It's still in script stage.'
• Click here for the full interview.
Published: 25 Sep 2013
What do you think?