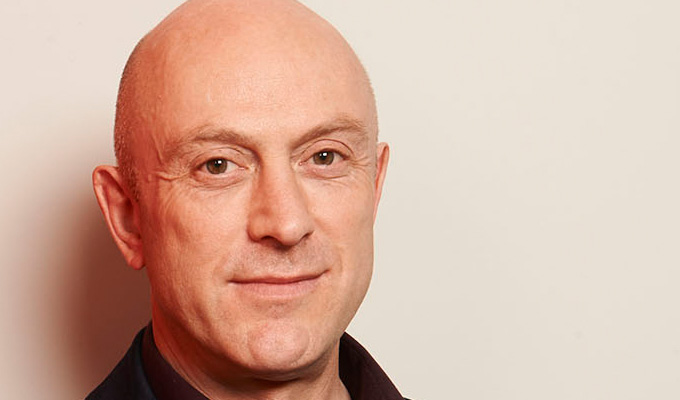 From Mrs Brown's Boys to Stewart Lee, it's all valid
Phil Clarke will have had a nervous night last night. As Channel 4's still relatively new head of comedy, he would have been keen to see what the critics – both the pros and the armchair Twitter variety - made of the new twenty-something sitcom London Irish, one of his first major commissions.
In the event, the show divided opinion. Though he, of course, is a fan. 'The density of writing is close to Peep Show,' he raves. 'It's witty acerbic, very irreverent, it probably will shock some people - those people who like to be offended.'
Not that the man who produced the Brass Eye paedophile special is going to let a little offence get in the way, maintaining that there's an honesty to London Irish that elevates it from shock-for-shock's sake comedy. 'It comes from real life; there's a truth to it,' he says. 'There's a wit and wisdom to the writing.'
'Some people will be offended. Some people love to be offended. Some people think that being offended is a right, which it isn't. Just go and do something else. Stop being offended and fill your life with other things.
'I do agree that – not citing any examples – just going for shock is pointless and pathetic and I want all our comedies to have an intelligence behind them. It's sort of childish.'
He would, of course, love to have his old colleague Chris Morris back on the channel, but fears TV has lost him to movies now. 'He's not a man to lured.' Clarke concedes, but hopes he would choose Channel 4 if he had another project up his sleeve.
'I hope it becomes true that established talent will come here and do what they can't do elsewhere,' he says. '[Ricky Gervais's] Derek is probably a good example of that.' And while admitting 'we're not a big broadcaster, I can't compete with mega-cheques' hopes that artistic freedom will prove a more irresistible bargaining chip.
It's a similar approach which has brought success to Sky – who have deeper pockets than Channel 4 – and Clarke admits he has his work cut out. 'There are lots of places now that are doing comedy that used to be the sole remit of Channel 4: ITV2, Sky Atlantic, BBC Three, and I think even on BBC Two you're starting to see stuff that you used to see only on Channel 4, when we had that beautiful marriage of alternative comedy in the Nineties.'
So how would he describe what would make something a particularly Channel 4-flavoured comedy? 'It's got to be intelligent. I hate the word edgy, but you know... witty knowing, acerbic - we're in business for that.'
They are probably exactly the same buzzwords as every other comedy commissioner would brandish, but Clarke – formerly head of comedy from Peep Show producers Objective and editor of comedy at Talkback Productions – insists he has a feel for what would work: 'Most of the shows I've ever made for a producer have been for Channel 4, so it feels like a good marriage.
'The tone of a comedy is more important than situation, age, sex, period of time – all that is open. It's about the script. I've have some come in that are well-written, well-constructed but cosy, and nothing happens but sitcommy stuff. It feels like a sitcom rather than a narrative comedy, if you can see the distinction.'
He draws a parallel with live comedy. 'There are some stand-ups who are crowd-pleasers and you know they are going to be all right; but also some who you feel they might die - but when they hit it,they go on to much better things.' That, he says is the type he wants to nurture at Channel 4. And narrative comedy specifically: 'I'm very interested in doing narrative at the moment,' he says. Whether it's studio or single camera, it doesn't really matter. Let's not worry about that. What's really important to me is the writing.
'The thing I hate most in broadcasting is the sort of show that's cobbled together to try to please as many people as possible. I don't think they work. You've got to follow you're heart and people have to come to it or not.'
'In pushing people's voices you *are* risking more, but if it captures a moment it will resonate in a way a more calculated show won't. It's high-risk and that's exactly what our comedy should be. If it's BBC One and ITV, they've different responsibilities, but we have an editorial responsibility; it's important to find something weird and wonderful. Channel 4 should go, "You're a unique voice come and play."'
But he adds: 'There's a strength not over-defining what your channel is. You don't want to close the door for people with original visions. The net's got to be cast wide.'
If ITV and the main BBC channels are all about the ratings, how would Clarke define what makes a Channel 4 success?
'We'll people have got to watch it,' he said – but adding that ratings are not the be all and end all. 'Let's see how the crits do, if we get nominations for anything, what the buzz is. A brilliant example is Phoneshop. It's a great piece of comic writing, working off strong characters, but it's never found the audience I think it deserves. But I think we should be doing it. It's a valid artistic and comic endeavour.'
He also cites the returning Cardinal Burns – a rare sketch show amid all the narratives. 'It hasn't got a huge audience, but it's got a buzz. It feels like it is right that these are guys are making a show.'
What, I ask, is the difference between Cardinal Burns and Anna & Katy – the cult hit from Anna Crilly and Katy Wix that will not be returning after its first series aired earlier this year.
'If you don't mind me saying, that's an unfair question,' he replies. 'Both have a lot in common – both have a coherent voice are brilliant performers, they've got their own sense of humour and do their own thing. But sometimes it's not the right format, and hopefully we will find the right vehicle for them [Anna & Katy]. I hope we can continue our relationship with both them, and keep working at it.'
He admits comedy is a tough genre and is ready for the inevitable brickbats – 'everyone's an expert because they know what makes them laugh' – but says that 'it's all valid as far as I'm concerned ... everything from Mrs Brown's Boys to Stewart Lee.'
Mrs Brown's Boys? Really? 'You could argue that it's distinctive, It's uncompromising, it's original by it's own standards; it's a guy doing his own thing and people either come to it or they don't – so you've got to respect it, even thought it's not to my taste. Comedy's a broad church.
'But it's not a Channel 4 show, I think we instinctively know that.'
However, he adds: 'It's dangerous to let your own prejudices come into play too much else all the shows end up being the same' – and cites the example of Bo Selecta, which he worked on as a producer. 'It's not my sense of humour at all, but it was a proper piece of comedy craftsmanship.'
So what does he have on his slate?:
Man Down: 'Greg Davies has done a brilliant job. It's deceptive in that it's full of jokes; it's sort of silly - bouncy is the way I'd describe it – but the stories are very well constructed and you'd be forgiven for thinking "Oh god this is a bit madcap," bur there's a lot of thought gone into it. There are two things that, having been a producer for about 300 years, I was still totally blindsided by. He pulled something out of the hat that I'd never seen any writer do before.
Toast: I think it's hilarious. I think its a Marmite show, but for fans of Matt [Berry] I don't think it'll be disappointed. And Arthur Mathews worked on the script. It's sort of Snuff Box meets Father Ted. – a proper melding of the two. It's quite surreal. It's a world that Matt knows, and when we thought: 'What's the most pompous character we can possibly imagine – well, it's got to be an actor.' Michael Ball plays a debt collector. Morgana is in it. There's a cameo from Amanda Donohoe. The pilot was more like a series of sketches or set pieces, but in the series it's more plot-driven, so it feels a bit more like a narrative. But it's still brilliantly weird, I can promise you that. It's got the most surreal thing you'll probably see about Bruce Forsyth.'
Drifters: It's on E4, made by the same team as The Inbetweeners and written by Jessica Knappett - the first thing she's really written – and I'm really pleased with it. It's more gentle than the Inbetweeners but it's a very strong female voice. When we were in the edit all the women were hooting with laughter. Fingers crossed for that.
Noel Fielding's Luxury Comedy: The big thing about Noel this time is that he's worked harder to give his half hour a narrative, so he's taken a step back towards the Mighty Boosh. Theres a logic to his surreal stories. He is clearly an artist. He's so committed to what he does, he's selfless in the time, resources and energy he puts into what for him is a work of art. It's all cutting-edge technology too – what they can do on a laptop is amazing - cucumbers from outer space! You'd think it was a mega-budget show, but it's not.
Then there are other shows that are returning, such as Friday Night Dinner, and others that aren't, like The IT Crowd 'though you can never say never with [creator] Graham Linehan'.
Not that Linehan has abandoned his relationship with Channel 4 now he is working on Count Arthur Strong for BBC Two. 'We're doing another thing with Graham,' Clarke reveals. 'He's got something else in that he's working with us on. So hopefully you'll see that next year, or if not it'll be in pilot. It's still in script stage.'
On what is probably Channel 4's biggest hitter, he says: 'We're talking about Peep Show, how that's going to be rounded off.'
He says it's going to end 'for sure' and that 'the discussion is about how it's going to conclude.'
Plus there is the potential for more than half a dozen more online Comedy Blaps 'pilots for pilots' this year. 'Blaps are such a good place for people who aren't ready for their own pilot,' Clarke said. 'Although it's such a small part of our budget, it's a great seed bed.'
One success story is Roisin Conaty's Blap, which has has already been promoted to a full-length pilot for the 4Funnies strand – filling Clarke's requirement that the shorts be stepping stones to potential TV series, not just online ventures on their own terms.
You've got to be sure that all the [eople who engage have television potential,' he said. 'Not everyone is right for television – cut to Eddie Izzard or I'm Sorry I Haven't a Clue, a brilliant radio show, but it isn't a television show.'
Clarke says that the joy of his new job is working over a raft of shows, rather than just the one... while his background means he'll be able to call the bluff of producers who bullshit him. 'I can say "don't pull the wool over my eyes – I know it's bollocks" because last year I'd have said the same.'
'And I don't miss standing in a field at 6am in pissing rain saying, "How are we going to make this sketch work?"'
But it's his producer days that provided him with perhaps the most lasting lesson, as he recalls a time early in his career when he was working for Radio 4, and an original show he was proud of got rejected by the commissioners for being too out of step with the channel.
'I said to the head of department, Jonathan James-Moore, "Is there any point? We know what Radio 4 likes - why should we bother to try to push the boat?" And he said we've got to keep going because the one that gets through; that's going to be the hit. The one that they can't proscribe. Although it's about heartache and rejection most of the time, the job is really about finding that moment.'
Interview by Steve Bennett
Published: 25 Sep 2013
What do you think?