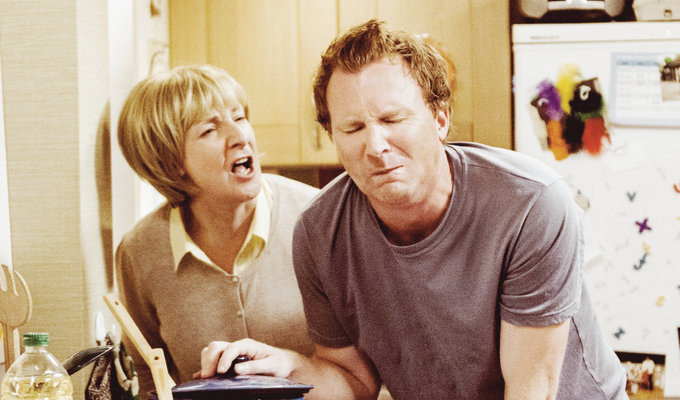 Weak start for Father Figure
Jason Byrne's new sitcom made only a modest start in the ratings last night.
Father Figure was seen by an average of 1.4million viewers – almost a million down on the average for that 10.35pm BBC Obe slot.
However, with 11.5 per cent of all viewers, it was the most-watched show in its timeslot.
But it compares unfavourably with Citizen Khan, which launched in a 10.35pm slot last year, with an audience of 3.41million.
Father Figure, which transferred to TV after a run on Radio Twom has also been slated by the critics.
Metro said: 'Father Figure managed to commit every sitcom cliché crime in the book: dopey bloke, interfering mother, long-suffering wife, victim neighbours, bonkers relatives. All of it wrapped up in an unsavoury mess of vomit and poo 'jokes'.
The Daily Telegraph said in its one-star review: 'What we need is for these implausible situations to be delivered with wit, brilliant timing and a superbly funny script. Father Figure failed on every count.'
And at the weekend Scotland on Sunday damned it with the faintest of praise,saying:  I suppose it's a bit better than Ben Elton's megaflop The Wright Way.'
Viewers' feedback on Twitter was so poor it promoted comic Michael Legge to tweet: 'There's less hate in the EDL Christmas disco than there is in the Father Figure hashtag.'
Many posts compared the show to Mrs Brown's Boys – which has been a ratings hit despite the critical opprobrium.
Published: 19 Sep 2013
What do you think?